Candidates Talk Rural Development in Chester County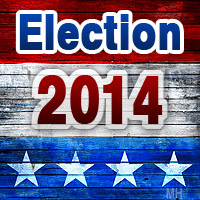 Henderson, TN – The Henderson/Chester Chamber of Commerce held a candidate forum Tuesday night at the Henderson City Hall, offering local and statewide candidates a chance to discuss policy ideas with West Tennessee voters. The common thread among all of the speakers was economic development in those counties.

Dan Cramer, candidate for US House of Representatives for Tennessee's 7th district, was on hand at the event to give his thoughts on building more jobs in rural Tennessee.

He said the key to growing economically was to create an environment that is hospitable to business through infrastructure development – that means well-built roads, access to high-speed Internet, and good local hospitals and schools.

He blamed Republican obstructionist policies for why these needs aren't already being met.

"The current climate of obstruction in Congress is hurting working Americans," Cramer said. "Even the possibility, for example, of the Highway Trust Fund running out of money in August is causing employers and workers to hold back on new spending, which in turn is slowing the economy. When did the prophets of small government decide that shutting down road repairs and highway expansion was their next target?"

Cramer also suggested that a higher minimum wage would go a long way to give Tennessee families a better chance at supporting themselves without government assistance.

"Working 40 hours a week allows no time for other job training or schooling – certainly when family obligations are added in – so anyone working a 40 hour week should be paid enough to feed, clothe and house their family without needing taxpayer assistance," Cramer said. "If a worker can't do those things, then the employer of the worker is getting a taxpayer-funded hand out."

Cramer cited $900,000 in subsidies given to Wal-Mart as an example of this kind of "corporate welfare."

He later commented on a remark made by Chamber Executive Director Emily Hunt Johnson, who said that tourism dollars are a big cushion to the local economy. Cramer noted that when the economy is slow and wages are down, leisure spending is often the first item on the budget that Tennessee families cut. Better wages, he argued, would be better for those areas that rely on tourism.

The event gave candidates a last chance to speak before early voting begins on July 18th. Cramer has a contested primary election to face before he can go on to the general election against Marsha Blackburn in November.

Any questions for Dan Cramer can be sent to or by calling Laura Heriges at 615.390.9253.



Sections
Politics
Topics
Congress, Dan Cramer, Henderson TN, Internet, Jobs, Marsha Blackburn, Tennessee, tourism, U.S. House of Representatives, Walmart, West Tennessee