APSU Sports Information Office

Clarksville, TN – Joel Mangrum, who has served as Austin Peay State University's pitching coach and recruiting coordinator for the past five seasons, has resigned his position to accept a similar post at New Mexico State.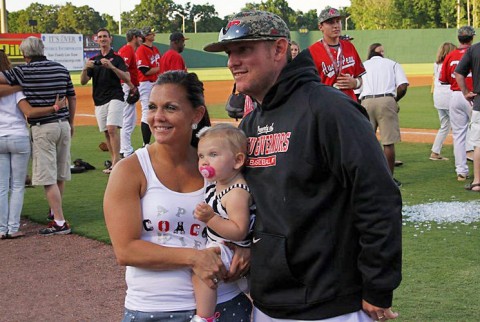 That was announced Friday by APSU head coach Gary McClure, who indicated an immediate successor will be sought for an assistant who played a key role as both pitching coach and top recruiter in helping APSU achieve three straight (2011-13) Ohio Valley Conference championships.
"Joel informed me Thursday he is leaving his position as pitching coach/recruiting coordinator at Austin Peay to fill the same positions at New Mexico State," APSU coach Gary McClure said. "I want to thank Joel for the terrific job he has done for Austin Peay and our baseball program over the last five years.
"Joel was very young when I hired him as my assistant coach. I knew I was taking a bit of a chance on him for that reason. However, what I did know about Joel was the fact he really wanted to be here and he was a tireless worker with a ton of energy.
"Joel did nothing but make confirm my thought process in giving him that opportunity. He has helped our program rise to the point where we have been competing on the national level through both his recruiting and work with our pitching staff. I can't thank him and his family enough for the contributions they have made to both Austin Peay and the Governors baseball program. I want to wish him the best as he enters the next step in his coaching career. I wish him and his family the best!"
Mangrum arrived in 2010, a season after the Govs went 22-30 in 2009. A year later the Govs improved to 28-25 before they began their string of three OVC tourney championships and NCAA appearances.
In 2013, the Governors' pitching staff posted a 4.41 ERA, a marked improvement from the 6.68 ERA in his first season (2010). He also mentored closer Tyler Rogers, who set the OVC record for single-season and career saves and became the first (2013) OVC Pitcher of the Year to win such distinction without starting a game.
From 2011-13, the Governors pitchers struck out more than 400 batters—the only time in school history APSU has fanned as many as 400—his 2011 staff fanned an average of 7.86 batter per game, ranking 28th nationally.
A Brandon, Mississippi native, Mangrum also played a key role in the program's last five recruiting classes, including a program-record 17 players for the 2011 campaign. Prior to joining the Govs Mangrum spent three seasons at Milligan College. He is a 2005 Mississippi College graduate, who began his coaching career (2005-06) at Hinds Community College