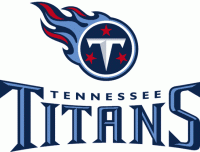 Atlanta, GA – With 5:45 left in the fourth quarter, Bishop Sankey scored on a 3 yard run off right guard to give the Tennessee Titans (2-1-0) their first lead of the game over the Atlanta Falcons (1-2-0). Sankey stretched out and over the goal converting the 2 point conversion, giving the Titans a 24-17 win at the Georgia Dome.
The Falcons took their next possession down to the Titans' 4 yard line where Tennessee's defense stiffened. On 4th and 2, Sean Refree's pass to Julian Jones up the middle fell incomplete, turning the ball over on downs with 1:08 remaining. The Titans ran out the clock to secure the victory.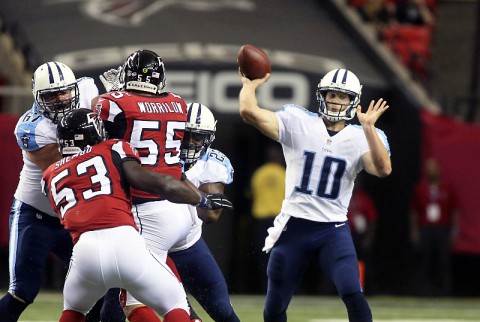 Jake Locker looked sharp commanding Tennessee's offense. He completed 12 of 17 pass attempts for 188 yards and a touchdown.
With 2:51 left in the 2nd quarter, Locker connected with Nate Washington deep over the middle for a 63 yard score. Washington caught 3 passes in the game for 94 yards.
Justin Hunter pulled in 3 passes for 48 yards. Tight end Delanie Walker had 35 yards on 3 receptions.
When asked about the touchdown catch, Nate Washington replied, "It felt good. It was something we've been working on all week. It's something the coaches have been harping on with quarters coverage. They were going to give us an opportunity to take a shot with the post. We saw the coverage and ran the post. Jake just found me."
The Titans were slow at getting the running game going. Shonn Greene had 15 yards on 6 attempts while Dexter McCluster had 8 yards on 3 runs. McCluster had one reception for 8 yards.
In the second half, Tennessee started moving the ball on the ground. Bishop Sankey had 16 attempts for 44 yards and a touchdown. Antonio Andrews had 56 yards on 3 attempts.
"Offensively, we were in some tough situations a couple of times. We have to run it better. We put ourselves in some third-and-longs, and we gave up some pressure and made mistakes. But I like the way they responded at the end of the half," stated Titans head coach Ken Whisenhunt. "Obviously the big play for the touchdown gave us a little momentum and fired up the defense. We have to continue with that."
"We had some spurts of good play, but overall we have a lot of improvement to make. We can't come out here like we did today and perform the way we did," said Nate Washington. "There are things we have to work on across the board. Overall, we had a couple of splash plays, but we have to get better."
For Atlanta, quarterback Matt Ryan was productive in just over a half of play with 18 completions on 23 attempts for 224 yards and 2 touchdowns. Ryan on the opening drive, took the Falcons down the field to the Titans 31 yard line. From the shotgun, Ryan hit Devin Hester on a short pass to the right that went 31 yards for the score.
Hester ended the game with 56 yards on 4 grabs. Julio Jones had 2 receptions for 63 yards and a touchdown. Running back Jacquizz Rodgers had 33 yards on 8 rushing attempts.
"I really liked the way we started tonight's ball game. I felt that we got off to a fast start in all three phases. The energy level was very good, in terms of playing offense, defense and special teams," stated Falcons head coach Mike Smith. "We controlled the line of scrimmage, moved down the field, took about seven and half minutes off the clock and scored. We got a three and out on defense, and in between that I thought our special teams played well."
"We did not execute at all in the second half of the ball game. We had way too many penalties. I think we had 10 accepted penalties, and there were probably four or five where there were penalties called, and the ball was completed and they were not accepted," said Smith. "That's an area of concern; it has been all preseason, not only for the Atlanta Falcons, but for the entire National Football League. Hopefully, we will all get this figured out before the start of the regular season."
For the third straight week, Tennessee's defense has allowed it's opponent to take the opening drive down the field for a touchdown. Defensively, the Titans are transitioning from a 4-3 scheme to what is described as a "hybrid" version with more of a linebacker-heavy 3-4 defense. So far, the transition has been a rocky one.
"We've been doing bad the last couple weeks on the first drive and wrapping it up after that. It's something we have to work on. We have to keep getting better," stated Tennessee defensive tackle Jurrell Casey. "When we get everything going and everyone is communicating and on the same page, we can show the world what we can do. We just have to start faster and put our offense in better situations."
"On defense, we can't allow them to make those short passes on us early in the game, get tripped up and give them big plays. We have to eliminate that," said Whisenhunt.
The Tennessee Titans play their final preseason game Thursday, August 28th at LP Field against the Minnesota Vikings. Kickoff is at 7:00pm CT. The game will be televised on WKRN Channel 2.
Titans Tickets
For ticket information, go to www.titansonline.com/tickets , email or call 615.565.4200
Game Time Scratches
Tennessee Titans
#52 LB Colin McCarthy
#60 G/C Chris Spencer
#61 C Gabe Ikard
#90 LB/DE Antonio Johnson
#93 DL Mike Martin
Atlanta Falcons
#39 RB Steven Jackson
#68 OL Gabe Carimi
Box Score
| | | | | | |
| --- | --- | --- | --- | --- | --- |
| | 1 | 2 | 3 | 4 | Final |
| Tennessee Titans | 0 | 10 | 3 | 11 | 24 |
| Atlanta Falcons | 7 | 10 | 0 | 7 | 17 |
Tennessee Titans

Passing
CP/AT
YDS
TD
INT
J. Locker
12/17
188
1
0
Z. Mettenberger
11/19
148
0
0
Rushing
ATT
YDS
TD
LG
A. Andrews
3
56
0
47
B. Sankey
16
44
1
8
S. Greene
6
15
0
5
J. Locker
1
12
0
12
D. McCluster
3
8
0
4
Z. Mettenberger
2
-2
0
-1
Receiving
REC
YDS
TD
LG
N. Washington
3
94
1
63T
J. Hunter
3
48
0
22
T. Thompson
3
39
0
18
D. Walker
4
35
0
9
C. Coffman
2
33
0
18
M. Mariani
2
24
0
13
K. Wright
1
18
0
18
M. Preston
2
17
0
9
D. Hagan
1
13
0
13
D. McCluster
1
8
0
8
L. Washington
1
7
0
7
Kicking
FG
LG
XP
PTS
M. Bonani
2/2
51
1/1
7
T. Coons
1/2
39
0/0
3
Punting
NO
AVG
I20
LG
B. Kern
4
37.0
2
54
Kickoff Returns
NO
AVG
TD
LG
L. Washington
1
14
0
14
K. Wooten
1
29
0
29
Punt Returns
NO
AVG
TD
LG
K. Wooten
2
9
0
17
D. McCluster
1
0
0
0
Atlanta Falcons

Passing
CP/AT
YDS
TD
INT
M. Ryan
18/23
224
2
0
S. Renfree
5/7
59
0
0
T. Yates
2/5
5
0
0
Rushing
ATT
YDS
TD
LG
J. Rodgers
8
33
0
10
J. Vaughan
2
21
0
16
D. Freeman
4
11
0
4
M. Ryan
1
6
0
6
A. Smith
4
4
0
2
Receiving
REC
YDS
TD
LG
Julio Jones
2
63
1
52T
D. Hester
4
56
1
31T
R. White
3
34
0
14
G. Boldewijn
2
33
0
26
D. Freeman
4
33
0
18
J. Rodgers
5
31
0
15
H. Douglas
2
23
0
15
J. Vaughan
2
12
0
7
B. Pascoe
1
3
0
3
Kicking
FG
LG
XP
PTS
M. Bryant
1/1
22
2/2
5
Punting
NO
AVG
I20
LG
M. Bosher
5
43.0
1
66
Kickoff Returns
NO
AVG
TD
LG
D. Hester
2
36
0
47
E. Weems
1
28
0
28
Punt Returns
NO
AVG
TD
LG
D. Hester
1
7
0
7