Clarksville, TN – Players, coaches and fans of Austin Peay State University football have been waiting for this day since the wrecking ball took down old Governors Stadium following the 2013 football season, with the 19-million dollar new Governors Stadium making its debut on September 13th, with the University of Tennessee Chattanooga coming to town for a 4:00pm contest.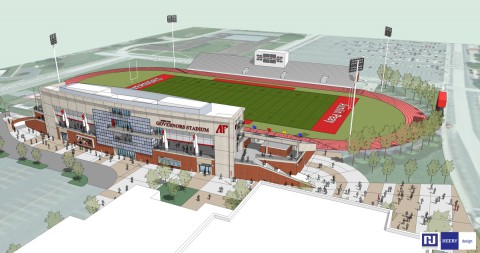 Originally named Municipal Stadium when it was built in 1946, the stadium received its current name in 1993 after Austin Peay took sole control of the facility.
Although there have been fixes and updates over the years, the 2012 state government approved plans for the major renovation will bring the facility more into line with current facilities around the country and Ohio Valley Conference.
The west (home) side of the stadium was demolished and replaced with a new structure — include luxury boxes and a training facility – restrooms were updated and replaced, while the field and the surrounding track were also replaced.
The east (visitors) side will remain largely the same with small renovations.
"There's a lot of excitement (the opening of the new stadium) with about 200 alumni coming back for the game," Austin Peay coach Kirby Cannon said. "I always like to point out the fact that once you put on the uniform on you're always a Governor and we need to play for not only ourselves and teammates, but we also need to play for the guys that wore the uniform in the past also."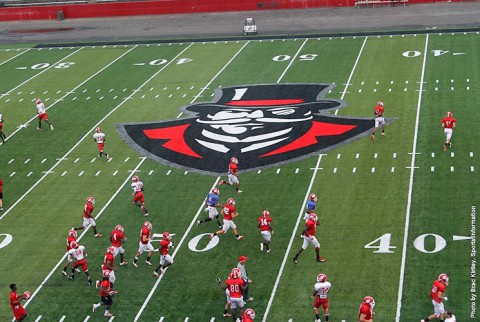 But still even more than the alumni and fans, it's the current and future Governors that will truly reap the benefits of the new Governors Stadium.
"Getting to play in the new stadium is like a dream," said Clarksville native and Austin Peay senior wide receiver Jamaar Embry. "When we got to go over there and see the new locker rooms and get out on the field, it's beautiful and amazing. The atmosphere is way better and the turf feels like you're on grass, so it's not like your running on concrete like sometime it did on the old turf.
"But as much as the players love the new stadium, I think the fans will love it more."
And leading up to the opening game versus Chattanooga in the new Governors Stadium, Austin Peay will hold several events over three days that fans and alumni can enjoy and participate in.
For more information about the weekend activities or to reserve complementary football alumni tickets for the event, telephone APSU Alumni Director Nikki Peterson at 931.221.7291 or email her at petersonn@apsu.edu.