Clarksville, TN – In sports you never know what event, no matter how big or small, may lead to unexpected results and a future that wasn't planned.
Austin Peay State University punter Ben Campbell is a prime example of that premise, with an injury to a teammate in high school leading to a record-breaking career for the Governors.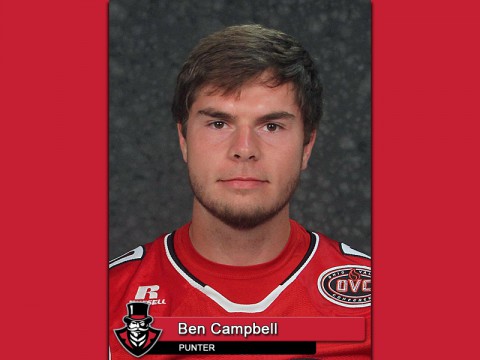 Campbell, a senior from Johnson City, TN, became the Governors all-time leader in punt yardage (9,973) versus Murray State University – while he also finishing the game tying the school record with total punt attempts in a career (259) – but none of those records may have happened without that injury.
"It (punting) started back in ninth grade," Campbell said. "Our punter got injured and couldn't punt, so one day the coaches got the balls out and said everyone needs to start punting to see if anyone could do it.
"It was ninth grade, so it wasn't that serious or anything. So I got a ball and for some reason I was good at it and really enjoyed it. Then they asked me if I could catch a ball and I said yeah, so that's when it started."
Before that, Campbell had been a soccer player for the most part.
"I played soccer when I was growing up," Campbell said. "I didn't play football and I just enjoyed kicking the ball as hard as I could. It didn't matter where it went; I just wanted it to go far, so that's where it really started."
Campbell would have an outstanding prep career at Science Hill High School which led to receiving several scholarships offers to continue his punting at the collegiate level.
"There were a few schools looking at me and more looking at me as just a walk-on, because at the bigger schools that is just how it works," Campbell said. "But Tennessee Tech was looking at me, Carson Newman gave me a scholarship, but whenever I came for my visit to Austin Peay it really sold me with the campus and the people.
"I never really want to go to school just to play football. My dad told me that I needed to go somewhere that I enjoyed the school, had what I wanted (major), because I might not have football for my whole college career. Something could happen injury wise, I could get cut, you never know. So that is why I chose Austin Peay, the school, the people. I could see myself going here, even though it was about five and-a-half hours from home."
The rest you could say is history, as he has been the team's starting punter all four years and ranking among the best in the Ohio Valley Conference over that span.
"I felt that I've stepped up to it whenever they've asked me too and it has been more often than I was expecting," Campbell said. "Whenever they call on me, I just try to do the best that I can and know that is the only opportunity I have to help the team. I try to do the best that I can."
And that opportunity to step up the past three-and-a-half years has led to Campbell having his name etched into the APSU record books.
"It's not something that you would say benefited the team completely," he said. "But looking at it from my perspective, I realize that it is a record that I'm pretty proud of it because I've been healthy and it's not like 'oh you just do this'.
"You have to be in every game and you have to work hard. If you don't do your job well and have a few bad punts, then they can put someone else in to do it. Thankfully I've never had that happen to me. I take pride in it, but it isn't something I'm going to brag about by any means."
With just five more games left in his college career, Campbell is already looking forward to his future and a career in teaching after graduation, but acknowledges that playing at Austin Peay has helped him learn a lot that he can pass on to his future students.
"I'm excited about moving along with my life and seeing what other opportunities are available," he said. "I'm excited about teaching and I've learned a lot playing here. "One of the biggest things is it's easy to have faith when you're winning. In high school we were a very successful team and it was easy to get people to cheer for you. Coming here it wasn't as much and you really have to have the faith. That is when your faith truly shows, when not many things are going your way."