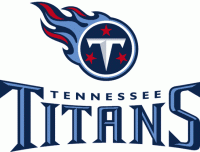 Nashville, TN – With three seconds remaining in the game, Washington Redskins' (2-5-0) kicker Kai Forbath made a 22 yard field goal as time expired to give the Skins a 19-17 victory over the Tennessee Titans (2-5-0) at FedExField.
With 5:32 remaining in the game, the Titans defense forced the Redskins to punt giving their offensive a chance to close out the game. However, center Brian Schwenke gets called for illegal use of hands pushing Tennessee back 10 yards. Three plays later, the Titans punt the ball back to the Redskins.
"I knew with the time on the clock and what our defense had done against these guys, I didn't want to make a mistake and give them field position," said Titans head coach Ken Whisenhunt. "I felt like worst case scenario, we could get into their territory and have a chance, which we did because [punter] Brett Kern had a nice punt. But once again, we have a good run, then we get a penalty that moves it back and makes it tough."
Washington then moves the ball down to the Tennessee 29. On third and two, quarterback Colt McCoy throws an incomplete pass to wide receiver DeSean Jackson, however, corner back Jason McCourty gets called for defensive pass interference giving the Redskins the ball on the Tennessee 7 and a fresh set of downs with :38 seconds left. Two plays later, Forbath kicks that game winner for the Skins.
"We didn't make enough plays at the end, unfortunately. We shouldn't have come to that position," said Titans head coach Ken Whisenhunt. "Offensively, we had the ball back and we had run more time off the clock. We made a mistake and we made enough mistakes all day. It's hard to pin it on that last drive or on anything. We didn't do the job today and that's disappointing."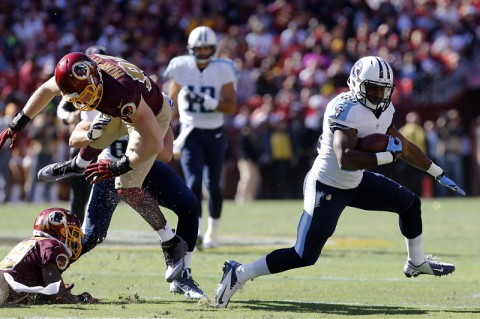 Tennessee had 11 penalties on the day for 96 yards along with a fumble and an interception. The Titans offense found itself backup up constantly with penalties that killed drives.
"We were at first-and-20 I don't know how many times today and those are hard to overcome," commented Whisenhunt.
For Tennessee, quarterback Charlie Whitehurst completed 17 of 26 pass attempts for 160 yards, two touchdowns and an interception. He also scrambled twice for 10 yards. Running back Bishop Sankey had 56 yards on 17 rushing attempts.
Wide receiver Kendall Wright caught 6 passes for 68 yards and a touchdown. Wright scored on a 14 yard pass from Whitehurst near the end of the 2nd quarter. Derek Hagan had 45 yards and a touchdown on 2 catches.
"It was good to see him run the ball down. We were in four verticals and the safety took [tight end] Delanie [Walker] and Derek made a good move behind him and we hit it," said Whitehurst.
Kirk Cousins was 10 of 16 for 139 yards and an interception for Washington. He was replaced in the second half with Colt McCoy. McCoy completed 11 of 12 pass attempts for 128 yards and a touchdown. On the second play of the 2nd quarter, McCoy connected with Pierre Garcon for a 70 yard score.
Running back Alfred Morris had 18 rushing attempts for 54 yards. Garcon caught 5 balls for 87 yards and a touchdown. Niles Paul grabbed 2 balls for 58 yards.
"I am extremely disappointed in the outcome of today's game. We made way too many mistakes today. We hung in there and fought but it was too much to overcome. It is a very tough loss," stated Whisenhunt.
The Tennessee Titans will look to get back on track next week as they host the Houston Texans at LP Field Sunday, October 26th. Kickoff is at 12:00pm CDT.
Box Score
Tennessee Titans (2-5-0) 17,  Washington Redskins (2-5-0) 19
| | | | | | |
| --- | --- | --- | --- | --- | --- |
| | 1 | 2 | 3 | 4 | Final |
| Tennessee Titans | 3 | 7 | 0 | 7 | 17 |
| Washington Redskins | 3 | 3 | 7 | 6 | 19 |
Tennessee Titans

Passing
CP/AT
YDS
TD
INT
C. Whitehurst
17/26
160
2
1
Rushing
ATT
YDS
TD
LG
B. Sankey
16
56
0
11
C. Whitehurst
2
10
0
6
L. Washington
1
8
0
8
J. Battle
2
3
0
2
D. McCluster
1
-1
0
-1
Receiving
REC
YDS
TD
LG
K. Wright
6
68
1
16
D. Hagan
2
45
1
38T
D. Walker
2
17
0
12
J. Battle
2
13
0
12
N. Washington
1
9
0
9
J. Hunter
1
6
0
6
D. McCluster
1
6
0
6
L. Washington
2
-4
0
1
Fumbles
FUM
LOST
REC
YDS
D. McCluster
1
1
0
0
D. Morgan
0
0
0
0
A. Williamson
0
0
1
2
Kicking
FG
LG
XP
PTS
R. Succop
1/1
36
2/2
5
Punting
NO
AVG
I20
LG
B. Kern
5
39.0
2
44
Kickoff Returns
NO
AVG
TD
LG
L. Washington
2
25
0
29
K. Klug
1
12
0
12
Punt Returns
NO
AVG
TD
LG
D. McCluster
1
0
0
0
Washington Redskins

Passing
CP/AT
YDS
TD
INT
K. Cousins
10/16
139
0
1
C. McCoy
11/12
128
1
0
Rushing
ATT
YDS
TD
LG
A. Morris
18
54
0
14
R. Helu
5
29
0
15
D. Young
1
14
0
14
C. McCoy
2
3
0
4
Receiving
REC
YDS
TD
LG
P. Garcon
5
87
1
70T
N. Paul
2
58
0
50
J. Reed
5
54
0
22
D. Jackson
3
49
0
37
A. Roberts
2
18
0
10
D. Young
1
10
0
10
R. Helu
3
-9
0
1
Fumbles
FUM
LOST
REC
YDS
K. Cousins
1
1
0
0
N. Paul
0
0
1
0
Kicking
FG
LG
XP
PTS
K. Forbath
4/4
31
1/1
13
Punting
NO
AVG
I20
LG
T. Way
3
41.3
1
52
Kickoff Returns
NO
AVG
TD
LG
A. Roberts
2
23
0
26
Punt Returns
NO
AVG
TD
LG
A. Roberts
1
1
0
1