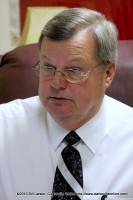 Indianapolis, IN – The National Association Of Mutual Insurance Companies (NAMIC) presented its State Legislator of the Year Award to Tennessee State Representative Curtis Johnson (R-Clarksville) citing his intense support of free-market principles and for taking strong positions to improve the insurance market in his state.
Rep. Johnson was the prime House sponsor of legislation that resulted in Tennessee becoming the first state in the country to enact a law capping the interest rates charged by third-party litigation funders, or lawsuit lenders.
The cap on fees in this legislation should lead the way for the rest of the country, protecting consumers and keeping unnecessary costs out of the judicial system.
"You are one of only six recipients across the country of this award in 2014," said Erin Collins, Director of State Affairs – Mid-Atlantic for the National Association of Mutual Insurance Companies.
"I am honored and humbled to be recognized by this great organization," said Representative Johnson. "It was great to work with them to pass this landmark legislation in our State."
The NAMIC Legislator of the Year Award is a statuette of Benjamin Franklin, who founded the first successful mutual insurance company in America more than 250 years ago. That company, the Philadelphia Contributionship for Insurance of Houses from Loss by Fire, is still thriving as The Contributionship Companies and remains a NAMIC member today.