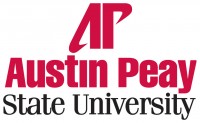 Clarksville, TN – For decades, students studying theatre or dance at Austin Peay State University graduated with a Bachelor of Arts degree in Communication. This wasn't a typo.
The University's theatre and dance program was a concentration within the APSU Department of Communication, which sometimes made things a little confusing for graduates applying for jobs.
"If you have spent four years taking acting classes, taking dance classes, taking voice classes, and then your transcript and resume indicate you have a degree in communication, that's just not right," Brian Vernon, associate professor of dance, said.
Last year, the Tennessee Board of Regents approved the creation of a new Department of Theatre and Dance at APSU, with Vernon serving as the department's first chair. Next fall, the department will begin offering new degree programs, allowing students to earn a Bachelor of Fine Arts in musical theater, acting/directing, theater design or dance, or a Bachelor of Arts in acting/directing, theatre design or dance.
"Instead of having to take classes to fulfill the core requirements for communication, students will take more appropriate core classes related to theatre and dance," Vernon said. "So our students are going to be much better prepared. We get to teach them what they need to know to have a successful career."
The new BFA degree curriculum in particular will help train students to enter the professional theatre and dance world. According to the National Association of Schools of Theatre, the BFA is the professional degree individuals need. To enter into that degree program, interested students must audition.
The Department will host an admission audition in January for individuals interested in joining the department next fall.
"I'm really excited about the new programs, and the students are too," Vernon said.
For more information on the Department of Theatre and Dance's new degree programs, call 931.221.6767.