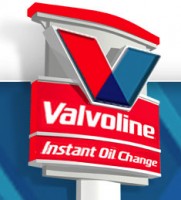 Clarksville, TN – Convenient Car Care Inc., the Clarksville Valvoline franchisee, recently received the inaugural "Samaritan Spirit Award" from Valvoline at their annual workshop held in Marco Island.  The award was inspired by the Clarksville company, after Valvoline realized just how much community involvement was part of the franchisee's success.
Marshall Wheaton, Franchise Business Consultant with Valvoline, spearheaded the award after recognizing the community work that was being done by Convenient Car Care Inc. in Clarksville.  In presenting the award at the annual corporate workshop, he shared why the Clarksville based corporation was the hands down choice to receive the very first Samaritan Spirit Award.
"This award is different as it is not about our personal or business growth, or what contributions we made to the success of Valvoline or VIOC Franchising" said Wheaton.
"Merriam Webster defines a Good Samaritan as a person who helps other people and especially strangers when they have trouble." Wheaton said, "In simple terms, Good Samaritans are persons who go out of their way to perform acts of kindness to others, especially strangers."
"As I think about this type of unselfish giving, one system stands out in my mind, and I have the privilege of honoring this franchisee with this most special award."
Wheaton went on to describe the community efforts of Convenient Car Care Inc., including their ongoing commitment to the local F.U.E.L Ministry, the annual winter coat drive, support of Manna Cafe and Room at the Inn, the Valvoline Cash Crew program, and the most recent Breast Cancer Awareness campaign which raised thousands of dollars for Cancer Research and Support.
Doug and Vickie Wall, owners of Convenient Car Care Inc., along with Candace Ursery, President, were present to receive the recognition.
"We're extremely proud of being recognized in this way," said Wall.  "The success of the franchise rests squarely on the hard work and commitment or our employees."  "Without them, we wouldn't be the company we have become, and I thank all of them."
Ursery echoed her father's feelings.
"It's a tremendous feeling when our employees get so excited about what we're doing in the community" said Ursery.  "I'm extremely pleased that they support our community efforts."
Convenient Car Care Inc. owns and operates the Valvoline Complete Car Care Center, and Valvoline Instant Oil Change Service Centers in Clarksville, and Oak Grove Kentucky.  They have been recognized as Operator of the Year by Valvoline and continue to set the standard for all Valvoline Franchisee's nationwide.
About Valvoline Instant Oil ChangeSM
Valvoline™, a brand of Ashland Inc. (NYSE: ASH), has been serving American motorists for more than 140 years. In addition to commercial and industrial lubricants, the Valvoline family of products includes Eagle One™ appearance products, Car Brite™ car restoration products, Zerex™ antifreeze, SynPower™ performance products, MaxLife™ products created for higher-mileage engines, and NextGen™ motor oil created with 50 percent re-refined oil.
With approximately 900 locations throughout the United States, Valvoline Instant Oil ChangeSM is a leader in serving the quick-lube market, and is looking for franchisee partners to establish a presence for the brand in markets across the country.