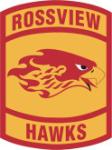 Clarksville, TN – Rossview High School's boys basketball team got a driving layup from Javon Vaughn in the final seconds, Tuesday, December 23rd in the final game of its own Christmas Classic, to defeat Logan County (KY) High School, 57-56, and extend its win streak to three games.
The Hawks (8-5) had seen Logan County take its final lead of the contest, 56-55, with two free throws by Noah Whittinghill, with 24 seconds left.
Rossview would bring the ball up, but got trapped in the corner, forcing a timeout, with 14.1 seconds left.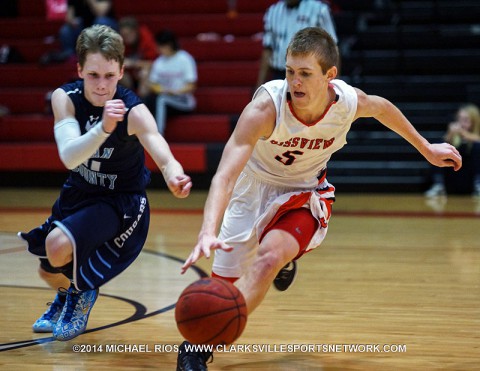 On the ensuing inbounds, Vaughn would get the ball about the three-point arc on the left side of the floor and drive by the Cougars defender to the basket and lay the ball in for a 57-56 lead, with seven seconds left.
Vaughn finished with 10 points for Rossview.
Logan County (6-3) would hesitate in calling a timeout, and when they did call for one, they only had 5.1 seconds left to try a final game winning shot.
The Cougars would get the ball to their point guard Garrison Rosser who raced the ball up the floor and did get a good look at a three, but the ball was a little bit off the mark and bounded off the rim harmlessly as the final buzzer sounded to seal away the one-point victory for the Hawks.
In the first half, it looked early-on like Rossview may have an easy night of it, getting out to an 8-2 lead in the first three minutes.
After that opening burst by the Hawks, Logan County wouldn't get any closer than three points in the first quarter before trailing 16-11 after the first eight minutes of play.
The second quarter would see Rossview extent its lead out to as many as 11 points, 24-13, following a free throw by Luis Amesty, with 5:58 left in the opening half.
The Cougars would keep the game close, despite missing nine of 23 free throw attempts in the first half, to trail by seven at intermission, 33-26.
As the two teams started the second half, Rossview would draw first blood with a bucket by Cannon Campbell to go up nine points, but Logan County followed with its best scoring run of the game – scoring 11 straight – to take its first lead of the game, 37-35, with 3:22 to go in the period.
There would be two lead changes and two ties in the final three minutes of the third quarter, before Logan County when into the final eight minutes of play up 44-42.
In the fourth quarter, the Cougars looked to put the game away by scoring the first five points to build its biggest lead of the game, 49-42, with six minutes to play.
But the Hawks would respond with an 8-2 run to make it a one-point game, 51-50, with 3:48 left.
A Logan County free throw would put Rossview down two, but Vaughn knocked down a three to give the Hawks a 53-52 lead, with 2:09 left.
Ben Wright would make two free from for Logan County to retake the lead, with 1:51 left, followed by a bucket by the Hawks' Christian Snell to put Rossview back up with 1:27 left.
The Hawks are now off until after the New Year, with their next action coming January 6th, when they host District 10-AAA foe Henry County High School.
Box Score
Rossview 57, Logan County (KY) 56
| | | | | | |
| --- | --- | --- | --- | --- | --- |
| | 1 | 2 | 3 | 4 | Final |
| Logan County Cougars | 11 | 15 | 18 | 12 | 56 |
| Rossview Hawks | 16 | 17 | 9 | 15 | 57 |
Logan County: Taylor Blakemore 20, Tahmir Graham 10, Garrison Rosser 6, Noah Whittinghill 5, Tucker Baldwin 2, Ben Wright 13. Team totals 17 19-31 56.
Rossview: Clayton Spence 4, Javon Vaughn 10, Cannon Campbell 6, Carter Campbell 3, Christian Snell 4, Austin Jackson 12, Jackson Parker 10, Luis Amesty 5, Jay Glenn 3. Team totals 18 14-17 57.
3-point field goals: Logan County 3 (Graham 1, Rosser 1, Wright 1), Rossview 7 (Jackson 4, Vaughn 2, Glenn 1).
Records: Logan County 6-3, Rossview 8-5.