Written by Brad Kirtley
Austin Peay Sports Information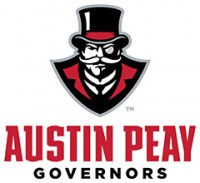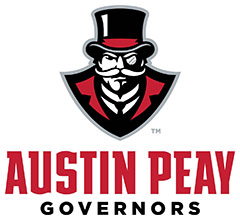 Brentwood, TN – Dr. Gaines Hunt, longtime Austin Peay State University professor and administrator and APSU's Athletics Faculty Athletics Representative for more than 15 years, has been named co-recipient of the 2015 Ohio Valley Conference Thurston Banks Award for Distinguished Academic Service.
The award, selected by the OVC Faculty Athletics Representatives (FARs), was established in 2013 to recognize individuals (e.g. academic advisor, professor, tutor, etc.), with at least five years of service at one or more OVC member institutions, for their outstanding contributions to OVC student-athletes' academic success, learning and development as well for his or her overall commitment to the institution's athletics program.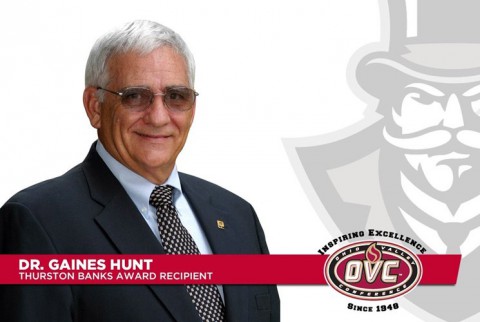 Morehead State's Peggy Osborne was this year's other recipient.
The award is named after Dr. Thurston Banks, who served the Tennessee Tech Department of Athletics for 31 of his 34 years on the faculty and served as the Faculty Athletic Representative (FAR) for 25 years before stepping down in 2006. He was inducted into the OVC Hall of Fame in 2007.
A 1966 Austin Peay graduate, Hunt served as APSU's FAR from 1979 until 1995 while he was a Professor of Agriculture at the university. During his tenure he served as the OVC FAR chair multiple times.
Among his accomplishments was working as a NCAA delegate that passed a full governance plan for women's sports, allowing women to compete for NCAA Championships. He also served on the OVC sub-committee that established the OVC Scholar-Athlete Award in 1981 as well as the committee that drafted the League's first sportsmanship policy in 1995.
The Sportsmanship Statement was a first-of-its-kind policy that helped promote the principles of fair play, ethical conduct and respect for one's opponents. The statement was an answer to a challenge from the NCAA Presidents Commission to improve sportsmanship in intercollegiate athletics and later became a model for others to follow across the nation.
After stepping down as FAR in 1995, he served as Assistant Vice President for Academic Affairs (1997-99), interim Dean of the College of Arts and Sciences (2001-02) and interim Dean of the College of Science and Mathematics (2004-06) until his retirement. Hunt remains active in the Governors Club, the Austin Peay Hall of Fame Committee and attends many APSU athletic contests.
The inaugural awards were presented to Austin Peay's Dr. Bruce Myers and Eastern Illinois' Dr. Gail Richard in 2013 while Tennessee Tech's Andrew Smith and Belmont's Betty Wiseman were recognized a year ago.
Hunt and Osborne will be presented their awards during the 2015 OVC Basketball Championships, held March 4th-7th in Nashville.