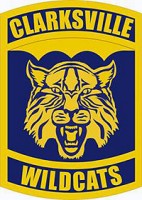 Clarksville, TN – Tyriek Cheatham's free throw with 24.2 seconds left Tuesday, February 3rd at William Workman Gymnasium, proved to be the difference for Clarksville High School as the Wildcats edged Springfield High School 45-44 and lock up a first-round home game in next week's District 10-AAA Tournament.
Clarksville High (11-11, 8-5 District 10-AAA), along with Springfield and Northeast High School, entered the night tied for third in the district standings, but the Wildcats victory over the Yellow Jackets earned CHS the tie-breaker over Springfield – having swept the season series — and guaranteeing no worse than a fourth-place finish in 10-AAA.
With 2:47 left in the game it looked like the Wildcats had the game wrapped up, as they went up right points, 44-46, following two free throws Teal Young.
But Springfield (14-12, 7-6 District 10-AAA) got a three from Keenan Pulley with 2:14 left to pull with five points, 44-39.
The Wildcats would then hurt themselves at the free throw line, missing four straight attempts, while a three by the Yellow Jackets' Dalaino Walker – with 50.1 seconds left – made it a two-point game.
Clarksville High would miss two more free throws, with 48.4 seconds left, followed by a bucket by Springfield's Timmie Barbee to tie the game 44-44, with 33 seconds left.
Springfield would foul Cheatham, with 24.2 seconds left, in hopes that the Wildcats struggles at the line would continue.
Cheatham would miss the first attempt – the seventh straight miss at the lie by CHS – but he knocked down the second to give Clarksville High the lead back and leave the game's final outcome to its defense.
After Springfield called its final timeout to set up its final possession, the Yellow Jackets had Barbee drive in from the left side in trying to knock down a go-ahead shot or draw a foul.
But Barbee was met by three Wildcat defenders on the baseline and forcing an off-balanced runner.
The shot bounced high off the rim and was batted around before being knocked out deep on the right side to a desperation heave at the final buzzer, but the shot failed to draw iron and the Wildcats escaped with the one-point victory.
In the first half, Clarksville High trailed one once, at 2-0, before going on a 13-0 over a span of 8:09 to lead 13-2 with 6:47 left before halftime.
Springfield would chip away at the Wildcats lead, getting as close as one point 19-18, before CHS took a 21-18 advantage into intermission.
The Wildcats would extend its lead out to four points, 34-30, after three quarters and out to as mast as eight points on a couple of occasions in the final quarter before the final Springfield rally came up one-point short.
Clarksville High wraps up its regular-season schedule at 7:30pm on Friday, February 6th, as they host Henry County High School.
Box Score
Clarksville High 45, Springfield 44
| | | | | | |
| --- | --- | --- | --- | --- | --- |
| | 1 | 2 | 3 | 4 | Final |
| Springfield Yellow Jackets | 2 | 16 | 12 | 14 | 44 |
| Clarksville High Wildcats | 10 | 11 | 13 | 11 | 45 |
Springfield
D'Angelo Ellis 2, Timmie Barbee 12, Jaylyn Mayo 4, Talarico Cogshell 7, Keenan Pulley 3, Dalaino Walker 10, Tyreese Cogshell 4, Tydrl Butrum 2.Team totals 16 9-10 44.
Clarksville High
JJ Jones 14, Evan Cooper 2, Tyriek Cheatham 7, Teal Young 4, Avery Bates 14, Brevon Johnson 4. Team totals 17 8-20 45.
3-point field goals: Springfield 3 (Walker 2, Pulley 1), Clarksville High 3 (Cheatham 2, Jones 1).
Records: Springfield 14-12, 7-6 District 10-AAA; Clarksville High 11-11, 8-5 District 10-AAA.