Austin Peay Sports Information

Edwardsville, IL – Facing a stout challenge for the second time in as many afternoons, Austin Peay State University men's tennis team remained undefeated in Ohio Valley Conference play as the Govs defeated SIU Edwardsville 4-3, Saturday, at SIUE Tennis Courts.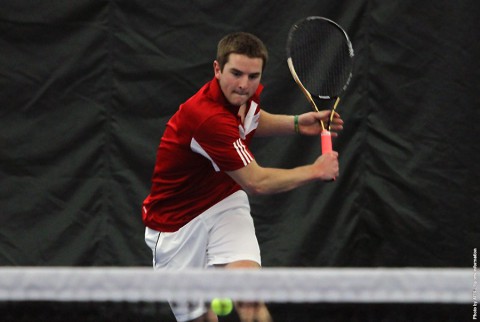 With the win, Austin Peay improves to 8-4 overall, with a 3-0 mark in the OVC. SIUE falls to 7-7 overall, with a 2-2 OVC record.
In doubles action, Austin Peay was led by the duo of senior Aleksas Tverijonas and sophomore Aaron Jumonville who cruised to an 8-2 victory at the No. 2 slot. Unfortunately, the Cougars were able to claim the doubles point with victories in the other two matches.
In singles play, the Govs were led by Jumonville and Tverijonas, who both completed undefeated afternoons. Jumonville cruised to a 6-1, 6-1 victory against Nico Kuehn at the No. 3 position while Tverijonas picked up a 6-4, 6-0 win against Nicolas Vincent at No. 2.
While the Cougars were able to pick up two wins in singles matches, the Govs earned a crucial point when sophomore Manuel Montenegro defeated Tristan Houle 6-3, 6-4 at No. 5. Austin Peay then clinched the match when Ristovski scored a 6-4, 7-6 (6) victory over Marten Jonsson at the No. 1 slot.
The Govs return to the court and continue OVC play with a 2:00pm, Friday, home contest against Morehead State at the Governors Tennis Courts.
Box Score
Singles
No. 1 – Dimitar Ristovski (APSU) def. Marten Jonsson (SIUE) 6-4, 7-6 (6)
No. 2 – Aleksas Tverijonas (APSU) def. Nicolas Vincent (SIUE) 6-4, 6-0
No. 3 – Aaron Jumonville (APSU) def. Nico Kuehn (SIUE) 6-1, 6-1
No. 4 – Jacob Perkins (SIUE) def. Iago Seffrin (APSU) 6-4, 6-4
No. 5 – Manuel Montenegro (APSU) def. Tristan Houle (SIUE) 6-3, 6-4
No. 6. –Patrick Gaffigan (SIUE) def. Oleg Drobysh (APSU) 6-2, 6-4
Doubles
No. 1 – Stephen Washuta/Vincent (SIUE) def. Seffrin/Ristovski (APSU) 8-6
No. 2 – Jumonville/Tverijonas (APSU) def. Jonsson/Kuehn (SIUE) 8-2
No. 3 – Gaffigan/Matthew Hutchinson (SIUE) def. Drobysh/Montenegro (APSU) 8-2