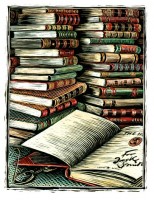 Clarksville, TN – Summer typically provides at least a few more hours for reading, whether it's during vacation or just because you have more daylight hours for relaxing. Here are some authors I consider worth reading:
1. Karen von Blixen-Finecke (Isak Dinesen). "I had a farm in Africa" in the romantic OUT OF AFRICA (first published in 1937) is one of the most memorable first lines in any book I've ever read. These six simple words somehow create an atmosphere of intrigue that extends throughout the book. If you have seen the movie and enjoyed it, you will love the book.
2. Alexander McCall Smith. I've written in this column before about the books he's written about a woman detective, Precious Ramotswe, in Botswana. He has a new one, TEA TIME FOR THE TRADITIONALLY BUILT; I haven't had time to read it yet but am looking forward to it. He has three other series with totally different characters as well. The Isabel Dalhousie series includes five books now beginning with THE SUNDAY PHILOSOPHY CLUB; I suggest you read them (and all his series from the beginning). The 44 SCOTLAND STREET series begins with a book by that title and describes members of a boarding house in Edinburgh and their adventures. The PORTUGUESE IRREGULAR VERB series begins also with a book by that title; it is supposed to describe hilarious adventures of a college professor, the profession that Smith himself follows. I haven't read this last series yet, but am planning on it soon.
3. Colin Dexter. A college professor who was forced to give up teaching by encroaching deafness, Dexter began writing the Inspector Morse mysteries during a boring rainy day while on vacation in Wales. The 13 Morse novels plus several books of short stories resulted in 33 Morse television shows before the marvelous actor, John Thaw, who portrayed Morse, died of cancer in 2001. A new series involving Lewis, Morse's sidekick, has begun on PBS's Mystery series. Read all the books in order and watch as many of the television shows (all are available on DVD) as possible. By the way, Dexter (like Alfred Hitchcock) appears in a cameo appearance in all the television shows.
4. Ruth Rendell. A member of the House of Lords in England, Rendell also writes as Barbara Vine. She is amazingly prolific with at least 22 Chief Inspector Wexford mysteries and more than 40 other novels plus short stories. Having sold her first novel, FROM DOON WITH DEATH, for £75 in 1964, she has won numerous awards for her writing and gives nearly a quarter of a million dollars to charity every year. You can read more about her life on the Web, of course. Her books are written from a psychological perspective rather than with graphic details of the violence perpetrated on a victim.
5. Carolyn Graham. Originally a factory worker, followed by a stint in the Royal Navy, Graham then became an actress, stage manager and freelance radio broadcaster. She began writing full time in 1971. Her mysteries about Detective Chief Inspector Barnaby and Sergeant Troy, first portrayed in THE KILLINGS AT BADGER'S DRIFT (1987), were adapted for television as the "Midsomer Murders" series starring John Nettles. These shows are also available now on DVD.
If any of these authors don't appeal to you, try Elizabeth George (Scotland Yard's Inspector Thomas Lynley!), Martha Grimes (mysteries only—her other books are not up to the quality of her mysteries, in my humble opinion), or Sharyn McCrumb (her best are the Appalachian Ballad novels, my all time favorite of which is SHE WALKS THESE HILLS).
Hope you have an adventuresome summer of reading! Personally, I can hardly wait.