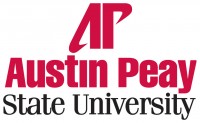 Clarksville, TN – The Office of Public Relations and Marketing at Austin Peay State University has been recognized by the Council for Advancement and Support of Education (CASE) – Southeast District III for its recruitment work.
The office received a special merit award in the recruitment publication series category for print and digital pieces. The printed pieces selected for the honor were part of the Traditional Student Recruitment Series.
The award was announced during the CASE III annual conference held earlier this year in Orlando, Florida.
CASE District III advances and supports educational and professional institutions in the southeastern U.S. by enhancing the effectiveness of the alumni relations, fund raising, communications, marketing and other advancement professionals who serve them.
The APSU Office of Public Relations and Marketing staff includes Bill Persinger, executive director; Kim Balevre, graphic designer; Charles Booth, assistant director of communication; Hannah Bradley Eden, coordinator of multimedia and web design; Gwen Dowling, office supervisor; Lindsey Dumser, marketing manager; Colin Harris, communication specialist; Beth Liggett, university photographer; Michele Tyndall, manager of printing services and projects; and Rollow Welch, assistant director of publications.