Austin Peay vs. Morehead State
Friday-Sunday, April 24th-26th, 2015
Clarksville, TN | Raymond C. Hand Park

Clarksville, TN – Another red-hot Ohio Valley Conference opponent visits Raymond C. Hand Park when Austin Peay hosts Morehead State in a three-game league set.
The series gets underway with a 6:00pm, Friday contest followed by a 2:00pm, Saturday matchup. A 1:00pm, Sunday contest will wrap up the weekend series.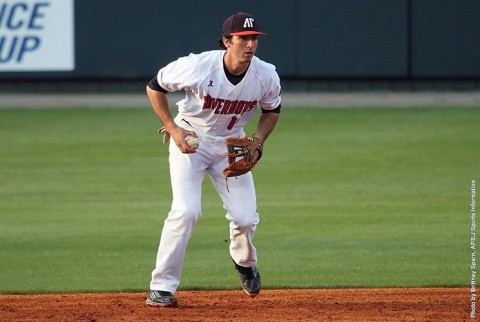 Austin Peay owns a league-best 15 wins at home in 2015. That total includes nine home OVC wins that have helped it maintain a spot among the top six in the league standings. The Govs offense is batting .322 and averaging 8.4 runs per game at home – averages that help boost their season marks to a .310 average and 7.5 runs per game.
With just three OVC weekends remaining, Austin Peay has a 12-9 league record. The Govs are among a group of six teams within two games of each other, beginning with second-place Morehead State at 11-7 and ending with seventh-place Murray State at 9-9.
Morehead State has been on a tear the past four weeks, winning 14 of its 18 games, including 10 straight wins during that stretch. The Eagles offense has averaged 11 runs per game and batted .398 with a .624 slugging percentage as a team during that 18-game stretch. The MSU pitching staff has basked in that run production, needing it to support a 7.07 team ERA during the 16-game stretch.
First Hacks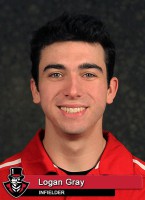 Third baseman Logan Gray has catapulted himself into the thick of the Division I home run race. With his 2 home runs against Lipscomb, Tuesday, he enters this weekend with an OVC-best 14 home runs and is tied with Arkansas' Andrew Benintendi for the Division I lead.
The Govs offense enters the weekend as one of the nation's top doubles-producing teams, averaging 2.50 doubles per game (5th in Division I) and are among Division I's Top 50 in average (13th, .308), home runs per game (11th, 1.08) slugging percentage (4th, .483), on-base percentage (10th, .405) and stolen bases per game (30th, 1.63).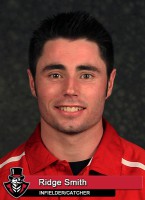 Catcher Ridge Smith was named the Tennessee Sports Writers Association's Player of the Week after batting .706 in four games last week, including a .692 batting average against Eastern Kentucky. Left fielder Cayce Bredlau has posted a hit in 6 of his last 9 outings, 5 of those ending in multi-hit efforts (.342, 12-for-35).
First baseman Dre Gleason owns a 5-game hit streak (.550, 11-for-20) entering the weekend, which began with 4 straight multi-hit outings. Since his 3-home run outing at Southeast Missouri, third baseman Logan Gray has been on an impressive tear, batting .420 (21-for-50) with 9 home runs and 22 RBI in the last 11 games.
Centerfielder Patrick Massoni also owns a 5-game hit streak, including a 7-for-11 (.636), 2 home run, 6 RBI performance in the EKU series. Designated hitter Alex Robles is the 3rd Governors hitter with a current 5-game hit streak (.350, 7-for-20). Right fielder Josh Wilson had a season-best 3 RBI in the Govs lost to Lipscomb, Tuesday, but hit his first home run as a Governor.
Shortstop Garrett Copeland is battling a slump that saw him held hitless in the Eastern Kentucky series (11 at-bats) – the first time he's been held hitless in a 3-game OVC set. Shortstop Imani Willis has not started the last 2 APSU games, but entered both contests as a defensive sub; before that he had 2 hits in his last 11 at-bats.
Toeing The Rubber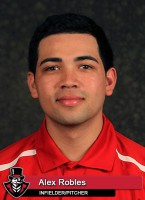 Righty Alex Robles will make his 18th straight OVC start as the Govs No. 1 this weekend. Robles is the OVC's ERA leader (2.82) for a second straight weekend. Robles posted his third consecutive win last weekend at Eastern Kentucky; he owns a 9-3 career league record and 3.20 ERA.
Left-hander Zach Hall remains in the No. 2 spot for his 4th OVC start this season. In the last month, he has totalled 9.2 innings in 4 starts, allowing 16 earned runs – all since his March 17 start at Tennessee.
Right-hander Jared Carkuff will maintain his No. 3 spot in the rotation for a 2nd consecutive week. He is 2-2 with a 4.82 ERA in OVC action this season. A.J. Gaura is one of five Govs pitchers to record a save this season and has a team-best five saves, three in OVC play.
Probable Starters and Closers
| | |
| --- | --- |
| Date | Austin Peay's Pitcher |
| Start | Opponent's Pitcher |
| Fri. | RHP Alex Robles (#5, So., 4-2, 2.82 ERA) |
| 6 p.m. | RHP Luke Humphreys (#38, So., 5-1, 5.77 ERA) |
| Sat. | LHP Zach Hall (#10, RSr., 1-5, 8.55 ERA) |
| 2 p.m. | RHP Craig Pearcy (#15, RJr., 2-3, 6.40 ERA) |
| Sun. | RHP Jared Carkuff (#16, Jr., 4-4, 4.07 ERA) |
| 1 p.m. | RHP David Calderon (#26, Fr., 2-1, 7.71 ERA) |
| CLOSER | RHP A.J. Gaura (#36, RSr., 1-0, 5 SV, 3.32 ERA)  |
| | RHP Aaron Goe (#13, RJr., 4-0, 2.78 ERA) |
Broadcast Information
Weekend Radio • Governors Sports Network
Play-by-Play: Van Stokes
Digital Audio • Govs Digital Passport
Audio for all APSU Baseball contests will be available free online at www.LetsGoPeay.com/watch
Governors on the Web
Live Statistics: www.PeayStats.com
Twitter: @APSUBasebal