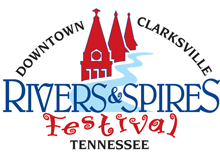 Clarksville, TN – The Rivers and Spires Quilts of the Cumberland Quilt Show held a Trunk Show on Thursday, April 16th at the Madison Street United Methodist Church.  Charlie Rhea presented a lecture and quilt trunk show entitled "Quilting Through the Years with Jamie and Charlie."
Jamie Williams, her friend and quilting partner, was ill and did not want to pass it around so she did not attend.
Rhea spoke to a standing room only audience about different quilting styles and methods. She also gave quilting tips and different ways to handling problems you can run into.
Rhea also brought along several quilts she and Williams had made over the years. There were several distinct types from Bargello to Lightening Strikes. She discussed each one in detail, giving the history for some, and how she or Williams came up with the idea to do the quilt.
Along they way, she answered questions and gave tips and examples on how some of the quilts were made. Some of the quilts were passed around so everyone could get a good look at the workmanship, patterns, fabrics and embellishments.
Williams and Rhea share a love for the art of quilting and have taught together for several years. They have a combined 60 years experience in sewing and quilting, and both have owned fabric shops at various times though out the past years.
To find out more, visit their web site at http://quilt-kits-quilting-patterns.com
Photo Gallery