Motorcycle Owner Awareness

Clarksville, TN – Clarksville Police Detective Raymon Carroll delivered an impressive presentation to the Command Staff at the CPD weekly Comstat meeting held on Friday April 17th, 2015.
Detective Carroll's Supervisor, Captain Crockarell, advised that this information is important to get out to motorcycle owners so that they can be vigilant against the current motorcycle theft crime trends. Detective Carroll, with assistance from other CPD Detectives and Officers, compiled motorcycle theft intelligence from January 2011 to March 2015.
Detective Carroll's Findings from January 2011 – March 2015
133 Motorcycles taken in Clarksville
99 Sports Bikes
34 Other (20 Cruiser style  and 14 Dirt Bikes)
Of the total taken; 83 were taken from apartment complexes.
72 of those taken from apartments were Sport Bikes.
Over half of the motorcycles taken were taken from the north side of Clarksville, closer to Fort Campbell, KY.
Common  Trends
62% of stolen motorcycles since 2011 have been taken from apartment complexes.
74% of stolen motorcycles since 2011 have been Sports Bikes.
73% of stolen Sports Bikes have been stolen from apartment complexes.
Top Trending  Motorcycles
Suzuki GSXR series- 28 Taken Jan 2011 to Mar 2015
Honda  CBR  series- 13 Taken Jan 2011 to Mar 2015
Kawasaki Ninja series- 13 Taken Jan 2011 to Mar 2015
Yamaha R1 / R6 series- 12 Taken Jan 2011 to Mar 2015
Why the Sports Bike?
One reason Sports Bikes are taken is because they are light weight.
The four models of Sports Bikes listed in the previous section have average weights of 388-408lbs dry and 417-435lbs wet. With weights between 388 to 435lbs, stealing a Sports Bike can be a one to two-man job.
Another popular reason for stealing Sports Bikes is because they can be sold piece by piece. Sports Bikes can be easily taken apart and sold to individuals who are both able to put a bike together or to replace damaged parts on Sports Bikes used in racing and/or stunts.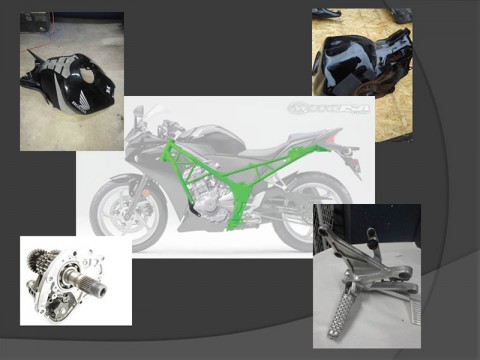 Those individuals who buy stolen parts can purchase them at wholesale prices. With racing and stunts being an ongoing hobby for some individuals, the need for new parts is significant.
A Seasonal Crime
According to the information Carroll compiled and for obvious reasons, more motorcycles are stolen during the summer months, especially in July and August.
Motorcycle owners usually store their bikes inside during the winter months and have them out and ready to ride during the summer months.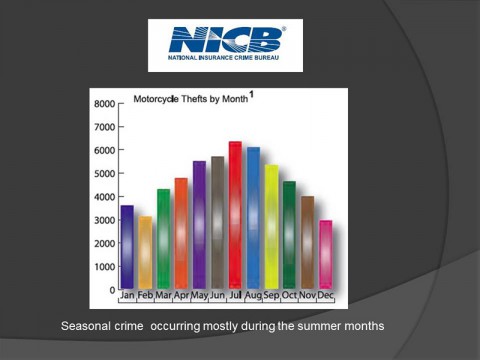 The motorcycles are more accessible for motorcycle theft criminals during the summer months at apartment complexes because the motorcycle owners are more likely to store their bikes outside of their apartments or in the general parking spaces.
Methods of Stealing the Motorcycles
Riding off from location

–

Keys left in the ignition (too easy for a criminal)- Some motorcycle criminals only look for bikes with the keys in their ignitions.
The criminal replaces the ignition switch- Some criminals who have made a career out of stealing motorcycles have the tools and know-how to replace ignition switches. The best way to prevent these criminals from stealing a bike is proper storage.

Loading motorcycle into the back of a pick-up truck

– Due to the light weight of Sports Bikes, lifting the bike into the back of a pick-up truck can be a one to two-man job.

The video below shows two suspects loading a Sports Bike into a pick-up truck from an apartment complex here in Clarksville in less than 40 seconds. The suspects in this incident were apprehended, and the video evidence was useful in CPD Detective Vince Duke's case.

Pushing the motorcycle from its location then loading it into an enclosed rental truck or trailer

–  Some criminals simply push the motorcycle into an ideal location and load it into a rental truck or onto a trailer.
Storage Suggestions for Motorcycle Owners that Live in Apartment Complexes
Do not park in the general parking area and avoid parking the motorcycle in view from major thoroughfares.
If available on site, rent a garage.
Rent an apartment on the ground floor and bring the motorcycle inside.
Rent a storage unit if there are no garages on site and drive to the motorcycle.
If you can only rent, rent a home with a place to store your motorcycle.
Note: Citizens that Report Suspicious Activity are Taken Seriously by the Clarksville Police Department (CPD)
Example
In 2012, a resident of a Clarksville Apartment Complex had reported that someone had been photographing a motorcycle in the complex. Acting on the suspicious activity, investigators installed cameras in a vacant apartment.  Later a Sports Bike had been taken.
The camera caught the theft on tape. The motorcycle was lifted up and placed into the bed of a truck.  Still photos were disseminated through the Media. The suspect's Mother recognized the truck that ultimately led to the arrest of two suspects for the theft.
We urge anyone who observes suspicious activity to call 911, so we can take proactive measures in preventing a crime from occurring.
Except for the video provided by CPD Detective Vince Duke, the slides and intelligence was put together by CPD Detective Raymon Carroll