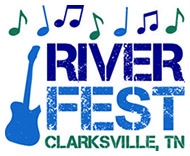 Clarksville, TN – Join us for the VIP event of the season. Serieux: A Temptations Revue will delight audiences with the sights and sounds of the legendary Temptations as Clarksville kicks off Riverfest on Thursday, September 10th at 7:00pm at Freedom Point.
Tickets are $50.00 per person and include live music, food, and drinks. Tickets are available for purchase online at www.clarksvilleriverfest.com . Discounted tickets are available through Sunday, August 23rd when you use the code "RiverfestVIP" at check out.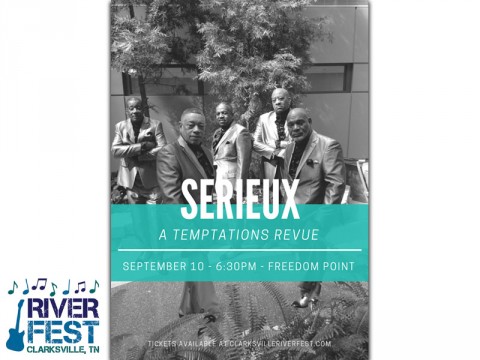 Ali Ollie Woodson, led the Motown quintet The Temptations in the 1980s and '90s. Ali played an integral part in restoring The Temptations to hit-making glory with songs like "Treat Her Like A Lady," which he wrote, "Lady Soul," "Soul To Soul", and "Some Enchanted Evening."
"Dynamic," "Awe-Inspiring," "Breathtaking" and "Mind Blowing" are words used by audiences around the globe to describe the explosive entertainment provided by Serieux, a group of high impact singers and musicians, who have recaptured the excitement of the legendary Motown sound that continues to captivate the entire world. From 2000 to 2010, Ali and Serieux traveled the world performing Ali's Temptation Show until his death on May 30th, 2010.
The demand for great entertainment continues. Serieux answers this call and still delivers astonishing vocals, energetic choreography, versatile and impressive musical abilities on both national and international stages.
About Riverfest
Riverfest is Clarksville's longest running community Festival. Now in its 28th year, Riverfest brings over 30,000 people to the banks of the Cumberland River in an arts and recreation celebration. This year the Festival will be held September 10th-12th, 2015.
Music, art, family events, and more will fill McGregor Park. Admission and entertainment at the Festival are free and open to the public. Riverfest is proud to announce the 2015 headliner Charles Esten, star of the hit ABC series "Nashville". More announcements will be made soon, as new events and entertainment are finalized.
To stay up to date on the latest Festival happenings visit the Festival website, www.clarksvilleriverfest.com, and sign up for the Festival newsletter.
The Festival is brought to you by the Clarksville Parks and Recreation Department. For questions please call 931-645-7476 or visit www.clarksvilleriverfest.com.