Clarksville, TN – What began as a creative hobby has blossomed into a colorful universe for Austin Peay State University student — and now, published author — Loreli McCole.
McCole's first book, a fictional novel titled, "The Iqaluk Chronicles: Last Storm," pushed through Pro Se Productions, is available now on www.Amazon.com and other major retailers.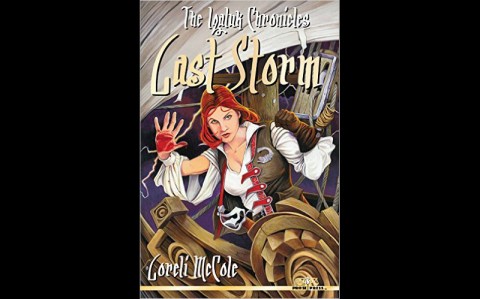 A life-long writer and self-described "navy brat," McCole said she used the written word as little more than a distraction during childhood. As an adult, McCole's love of fantasy and fiction presented itself not in her writing, but rather in a love of cosplay, or a performance art where people wear costumes and accessories to represent fictional characters.
Two years ago, while going through what she described as "a rough time," McCole said her friends began to encourage her to blend her creative loves of cosplay and writing in order to get a better feel for the personas they were inhabiting in costume.
"We started out working on steampunk characters to cosplay, and that turned into making up a reason for them to be together as a crew," McCole said. "We wanted to start telling their stories, so I started writing different short stories adventures."
What was born from that idea came "The Iqaluk Chronicles: Last Storm," the first in what McCole is hopeful will be an anthology of stories based on the fictional airship Iqaluk.
The story follows a mysterious woman, known only as "Captain" as she and her crew face a threat they have only read about in order to prevent a catastrophic war from visiting their land.
McCole said that the steampunk, a genre of science fiction that incorporates technology and design inspired by 19th century steam-powered machinery, had always appealed to her because of its unusually broad narrative demands.
"I started doing the research for what kind of worlds or things count as steampunk, and I found I like the genre because it can be as simple as mechanics or as complex as a great hero on a massive adventure," McCole said. "While there are people who are very strict on how they interpret the genre, I tend to play it loose with my definition."
One aspect of her fiction McCole closely monitored was the book's depiction of its technical information. Despite the fantastical setting, the first-time author said she was determined to obey her new world's logic – and that meant a great deal of research.
"If I wanted something to work in my world, I couldn't just say it worked – my husband was adamant about explaining how it worked," McCole said. "So the technicality of the guns, ships and science of steampunk took a lot of research, and my husband really helped with that aspect. We joked afterwards that, with enough money and a little more engineering, we could build (the Iqaluk) and it would mostly work."
Even the name of the titular ship, "Iqaluk," holds special meaning to McCole, as it is a word native to the indigenous Yupik people of Alaska. The word, McCole said, is a tribute to her late step-father, Dan Swoboda.
"(Swoboda) was an avid reader and loved to tell stories," McCole said. "He was raised in Alaska and had many foster brothers and sisters of native heritage."
Since its release earlier this year, "The Iqaluk Chronicles: Last Storm" has been a success, reaching the Top 20 in the steampunk fiction sales chart on Amazon.com.
"Since its publication, the reviews I've gotten from people who have read it have been 'When is the next one coming out?'" McCole said. "There have been lots of questions about what is going to happen with the characters next. I've even been asked to write some side-stories for the world I've created, but at the moment, I'm focused on this one area of the world and this one ship.
"But who knows where the inspiration will hit, and what will happen next."
For more information on "The Iqaluk Chronicles: Last Storm," visit Pro Se Publications online at www.prose-press.com