Austin Peay Sports Information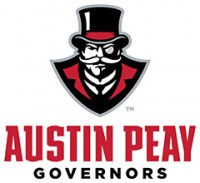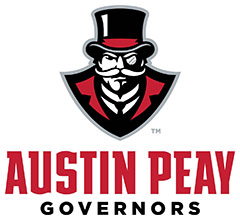 Clarksville, TN – Austin Peay State University has announced four new members will be inducted into its Athletics Hall of Fame, February 13th, 2016.
Rowdy Hardy, the winningest pitcher in Governors baseball history and two-time Collegiate Baseball All-American selection; Stephanie Champine, a two-time all-region volleyball player and 2009 OVC Player of the Year; Carrie Burggraf, a five-time Ohio Valley Conference pole vault champion and two-time OVC Scholar Athlete, have been selected to the Athletics Hall of Fame.
In addition, a former superb basketball player from the late 1940s, the late Paul Aaron, has been elected to the Hall of Fame as part of it Honors category.
The quartet will be honored in a breakfast, 9:00am, Saturday, February 13th. They also will be introduced during halftime ceremonies of the Governors' contest with UT Martin. They will become the 111th, 112th, 113th and 114th members of APSU's Athletic Hall of Fame.
For more information about the breakfast, telephone Tara Pfeifler, 931-221-6119 or email pfeiflerT@aspsu.edu.
Rowdy Hardy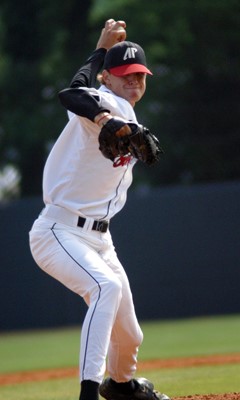 Hardy, who began his career at Mississippi State before transferring to Jackson State Community College, arrived at Austin Peay in Fall 2003 and became the anchor of a superb Govs pitching staff during the mid-2000s. Despite pitching just three seasons his 32 career victories are six more than second place.
Hardy was named OVC Rookie of the Year in 2004 after finishing with a school-record 12 wins (three losses) as a sophomore with a 2.90 ERA in leading the Govs to a regular-season league title. The Bethel Spring native earned the first of three All-OVC awards. He also was named third-team All-America by Louisville Slugger—APSU's first All-American since 2000—after earning American Baseball Coaches All-South Region.
The lithe lefthander followed up his outstanding sophomore season with an equally superb junior campaign, going 11-6—becoming the only Gov pitcher in history with multiple double-digit wins seasons. He also posted a 2.63 ERA and was named first-team All-OVC for a second straight time. Hardy earned all-region honors for a second straight year. He also was selected APSU Most Outstanding Male Athlete for the first of two consecutive seasons. The Govs finished the OVC regular-season in second place but defeated Jacksonville State in the tourney championship, earning APSU's first NCAA berth (Knoxville Region) since the 1996 season. Hardy was chosen second-team All-America.
With a team besieged by injuries in 2006, Hardy still won nine games (9-3), posting a career-best 2.58 ERA, in leading the Govs to a third-straight 30-win campaign and completing a nearly unparalleled APSU career.
Not only is Hardy's 32 career wins an APSU mark but an OVC record as well. During his career, he averaged just 1.74 walks per nine innings, also a school mark. Hardy also had 19 complete games. His 96 strikeouts in 2005 are second most in a single season. He also is ranked second in both innings pitched (346.0) and strikeouts (255). In fact, Hardy is ranked in the Top 10 in 21 single-season and/or career marks, including shutouts, ERA and games started.
After completing his APSU career, he embarked on a six-year minor league career, first with the Kansas City Royals and later with the Atlanta Braves organizations.
Stephanie Champine
Before Champine came to APSU in 2008, the Lady Govs volleyball team won just 12 matches total the previous two seasons. Her presence as an outside hitter powered the Lady Govs from an OVC also-ran to a championship contender, leading the Lady Govs to back-to-back 22-victory seasons.
But Champine was more than just a front-row stalwart. She finished her career with 893 kills and 738 digs in two superb seasons. As a junior, she averaged 3.4 kills per set and 2.98 digs in leading the Lady Govs to a 22-11 mark while earning first-team All-OVC, OVC All-Newcomer team selection and American Volleyball Coaches Association (AVCA) All-Region. She also was honorable mention AVCA All-America for a team that finished tied for third in the OVC standings.
As good as she was as a junior Champine was even better as a senior. She smashed 488 kills, improving her average (4.3) almost one kill per set. She set a school record with 28 double-digit kill outings during the 31-match campaign to lead the 22-9 Lady Govs to a second-place OVC finish – its best regular-season OVC finish since winning the 1992 title. Champine's dominant play saw her voted OVC Player of the Year, becoming only the third APSU player to earn the league's top honor.
She was selected first-team All-OVC for a second straight season and earned OVC all-tourney. Again she was chosen AVCA All-Midwest Region team as well as honorable mention All-American.
For her career, Champine is one of only five APSU hitters to record two 400-kill seasons during their career – her 893 career kills ranking 16th most all-time while her .246 career attack percentage is sixth-best in program history. She also finished with 77 career blocks and 42 service aces.
In Spring 2010, Champine was named APSU's Most Outstanding Female Athlete. That same spring she had her jersey retired at Owens Community College (Perrysburg, Ohio).
Carrie Burggraf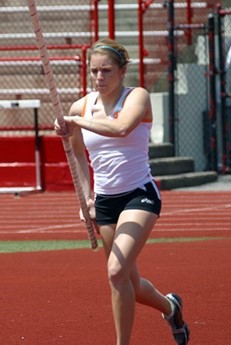 Perhaps no one in APSU athletics history earned more recognition on and off the field of play than Burggraf. Five times—three outdoor and two indoor—the Marion, Ohio native captured league championships in the pole vault, setting both the indoor and outdoor championship records along the way.
Injuries slowed her freshman season, although she qualified for the NCAA Indoor championships pole vault in 2007 she was unable to compete because of a back issue, an injury that also sidelined her during the outdoor season.
With that injury healed she started making her mark a year later. In the 2008 indoor campaign, she captured four first-place finishes, tying twice with teammate Molly Bartkiewicz and never finished lower than fourth. Then she earned six top-five finishes in her sophomore outdoor campaign. She claimed her first OVC title with a 3.73 meter mark, narrowly edging Bartkiewicz. That spring she competed in her first NCAA Regional.
As a junior in 2009, Burggraf never finished lower than sixth during the indoor season. She saved her best for last, setting the school indoor record at the OVC Championships, with a 3.80-meter vault mark, winning her second OVC championship. She picked up where she left in the outdoor, setting the school outdoor mark 3.85-meter vault to open the campaign. Burggraf went on to capture her third consecutive OVC pole vault title with a 3.75-meter mark at the outdoor championships and earning a trip to the NCAA Regional.  In addition, she was named APSU's Most Outstanding Female Athlete that spring.
Burggraf capped off her exceptional career with an even better senior season. She hit the 13-foot mark in the OVC championships, holding off teammate Bartkiewicz in a jump off. She was named OVC Female Indoor Athlete of the Year for her performance.
Then during the outdoor season she was vaulted 13-05 feet, not only shattering her OVC championship record but claiming her fifth straight OVC pole fault title—she became the first OVC pole vaulter in history to clear 13 feet outdoors. She also made her third straight NCAA Regional appearance. Burggraf was selected as APSU's Female Legends Award recipient as the most valuable senior athlete.
Her on-field performance only tells half of the amazing Burggraf story. She earned second-team Academic All-America as a junior and first-team as a senior. Graduating with a 4.0 GPA, she earned the OVC Medal of Honor (highest GPA in a conference-sponsored sport) for four straight years.
She is the only athlete in OVC history to twice earn the prestigious OVC Scholar-Athlete Award, becoming the first junior student-athlete to earn such distinction because she had the necessary academic credits to qualify.  She also became the only two-time winner of the league's Steve Hamilton Sportsmanship Award, based upon both her work in the classroom and in the community.
As a junior she was honored with APSU's Perkins Freeman Scholarship and the following year as the Perkins Freeman Award recipient—the award is based upon highest GPA of rising junior (scholarship) and graduate (award). As a senior she received the John Burgess Award as APSU's top political science scholar—she earned the prestigious Jimmy Carter Center Peace Program during Summer 2008.
Burggraf was APSU and OVC's Women of the Year nominee for 2010 and then received the esteemed NCAA Post-Graduate Scholarship as she continued her studies at the University of Pittsburgh.
Paul Aaron
Paul "Slick" Aaron was more than the younger brother of Dave Aaron. He was an outstanding three-sport athlete, in particular in basketball during the late 1940s. When his brother took over as athletic director and basketball coach in 1946-47 one of his incoming freshmen players was none other than Paul and they played their games for the first time at the National Guard Armory.  Austin Peay comprised a 56-27 record during Paul Aaron's three seasons as a basketball Govs.
Austin Peay finished the 1946-47 regular season with 17-4 record and then competed in the Middle Tennessee Athletic Basketball League, reaching the finals of the tourney before losing. In the semifinal victory, APSU won 64-46, with Aaron helping lead the way with 15 points.
Since Austin Peay played numerous independent teams that season it was invited to participate in the Independent Basketball Association of America tourney, winning four straight games to claim the title. Aaron had 12 points in the opener to lead Austin Peay past Wright. Aaron, who scored 190 points that season, was named to the Nashville Banner's All-State team that season.
The next season (1947-48) the Govs moved into the eight-member Volunteer State Athletic Conference.  They finished third in the new league and then took third place in VSAC tournament, with Aaron scoring 10 points in both the tourney semifinal and consolation game. He was named All-VSAC that season. Aaron finished with 195 points, behind James Stone and George Fisher.
With four starters back in 1948-49 expectations were high, but the Govs got off to an unexpected sluggish start, winning just one time in the first nine games. But Aaron played a key role in the Governors turning around its fortunes. After sitting at 5-11, Austin Peay finished the regular season winning eight of nine to take a 13-12 mark into the VSAC tournament, played at home in the Armory.  In the tourney semifinals Aaron scored 16 points to lead the team to a 50-47 victory against Union.
In the finals against Lincoln Memorial, Austin Peay trailed by five points until Aaron reentered the game with four minutes left to help rally the Govs to a tie. He became the hero when he hit a one-hander in the final minute for the 51-49 victory.
Aaron was named All-VSAC tournament and helped the team gain a berth in the NAIA Tryouts, where the Govs gained a championship berth before falling.
In addition to basketball, Aaron also played tennis and golf for the Governors.