Austin Peay Sports Information

Nashville, TN – Senior guard Tiasha Gray poured in a career-high 38 points but Austin Peay State University women's basketball team could not get a key stop down the stretch in an 88-82 Ohio Valley Conference loss to Belmont, Saturday night, at Curb Event Center.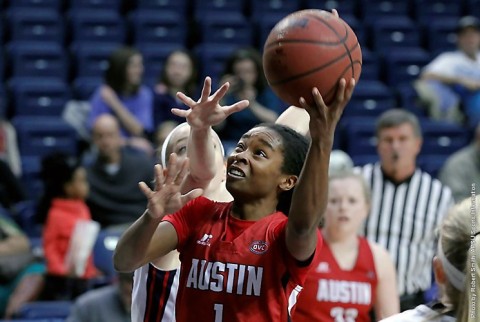 For the fourth consecutive game, Austin Peay (5-13, 3-2 OVC) overcame a double-digit first-half deficit to take a fourth-quarter lead. Belmont built a 13-point advantage early in the first quarter and led by five points at halftime.
But Gray scored 16 of Austin Peay's 26 points in the third quarter to narrow the deficit to one point, 59-58, at the end of the frame. She then handed out assists on Austin Peay's first two baskets of the fourth, Banks hitting a pair of layups for a one-point, 62-61 lead.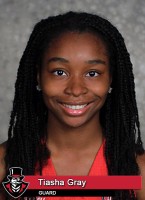 Belmont (11-7, 3-2 OVC) made the game's next two baskets as Sally McCabe scored her team's opening eight points of the frame. The Bruins would build a seven-point advantage when freshman guard Darby Maggard hit a three-pointer with 3:06 left.
But Austin Peay again responded, scoring the game's next six points to get back within a point, 78-77, after Gray's jumper at the 2:02 mark. However, Austin Peay could not get the defensive stop it needed down the stretch as Belmont scored on five of its final six possessions, closing the game with a 10-5 run to secure the win.
The Bruins roared out of the gate, scoring on seven of their first nine possessions. Four of those baskets came from three-point range as it owned a 13-point, 18-5, lead at the 4:50 mark of the first quarter.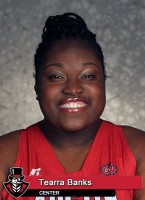 Austin Peay would take two big chunks out of that deficit in the second quarter. A 12-6 run that included three-pointers by Gray and senior forward Symantha North cut the deficit to six points. The Govs then scored six straight points to get within two points but Maggard hit a three-pointer with 31 seconds left to give Belmont a 37-32 halftime lead.
Gray's career-high 37 points – 27 points in the second half – came on 13-of-25 shooting, 4-of-9 from three-point range and an unblemished 8-of-8 free-throw line effort. She added 11 assists for her second double-double this season. Gray had a hand on 24 of APSU's 31 field goals made.
Junior center Tearra Banks added 20 points in 17 minutes, making 9-of-16 from the floor. However, no other Govs player reached double-digit scoring territory.
Maggard led Belmont with a 24-point, 10-assist double-double performance. Kylee Smith added 21 points and McCabe chipped in 20 points. The Bruins made 50 percent (34-of-68) of their field goals, including 42.3 percent (11-of-26) from three-point range.
Austin Peay continues its three-game OVC road trip with a 5:00pm (CT), Wednesday contest at Morehead State.
Video
Box Score
Austin Peay (5-13/3-2) 82, Belmont (11-7/3-2) 88
| | 1 | 2 | 3 | 4 | Total |
| --- | --- | --- | --- | --- | --- |
| Austin Peay | 14 | 18 | 26 | 24 | 82 |
| Belmont | 24 | 13 | 22 | 29 | 88 |
Austin Peay 82
Player
FGM
-FGA
3FGM
-3FGA
FTM
-FTA
OFF
-DEF
TOT
PF
TP
A
TO
BLK
STL
MIN
Gray, Tiasha
13-25
4-9
8-8
0-3
3
5
38
11
3
1
2
40
Rates, Beth
4-8
0-0
1-5
8-3
11
1
9
1
3
0
0
30
Baker, Falon
2-3
2-2
0-0
0-1
1
2
6
0
1
0
0
26
Gregory, Keisha
2-2
0-0
2-4
1-3
4
3
6
2
1
0
0
25
Gooch, Sydney
0-5
0-2
0-0
1-7
8
1
0
0
1
0
0
24
Banks, Tearra
9-16
0-0
2-4
1-2
3
1
20
0
0
0
0
17
Norton, Symantha
1-2
1-1
0-0
0-4
4
2
3
0
1
0
0
15
Alexander, Brianne
0-1
0-0
0-0
1-2
3
3
0
1
0
0
1
11
Rich, Madison
0-3
0-0
0-0
1-1
2
0
0
0
2
0
0
9
Olszewski, Shelby
0-0
0-0
0-0
0-0
0
1
0
0
0
0
0
3
Rivers, April
0-0
0-0
0-0
0-0
0
0
0
0
0
0
0
0+
TEAM
0-0
0-0
0-0
0-0
0
0
0
0
0
0
0
0
Totals
31-65
7-14
13-21
13-26
39
19
82
15
12
1
3
200
Belmont 88
Player
FGM
-FGA
3FGM
-3FGA
FTM
-FTA
OFF
-DEF
TOT
PF
TP
A
TO
BLK
STL
MIN
Maggard, Darby
8-18
4-8
4-4
0-6
6
1
24
10
1
0
0
40
Smith, Kylee
8-14
5-9
0-0
2-1
3
1
21
5
0
0
4
38
McCabe, Sally
9-14
1-3
1-1
1-6
7
4
20
1
1
1
1
30
Roy, Jenny
4-7
1-3
2-4
2-3
5
4
11
5
1
3
1
32
Thompson Lauren
2-2
0-0
0-0
0-3
3
5
4
0
3
0
0
19
Joubran, Frankie
2-6
0-0
0-1
4-2
6
3
4
1
1
0
0
17
Harmeyer, Ellie
0-3
0-1
2-2
1-2
3
2
2
1
2
0
2
14
Jones, Sierra
1-4
0-2
0-0
0-1
1
2
2
0
1
0
0
10
TEAM
0-0
0-0
0-0
0-1
1
0
0
0
0
0
0
0
Totals
34-68
11-26
9-12
10-25
35
22
88
23
10
4
8
200