APSU Sports Information

Johnson City, TN – Head coach Doug Molnar had a lot to be pleased about following APSU's two-day appearance at the ETSU Invitational.
"We ran a lot of races over a two-day period that simulates the conference meet," Molnar said. "They were kind of worn down by the end but I think we had an outstanding two days."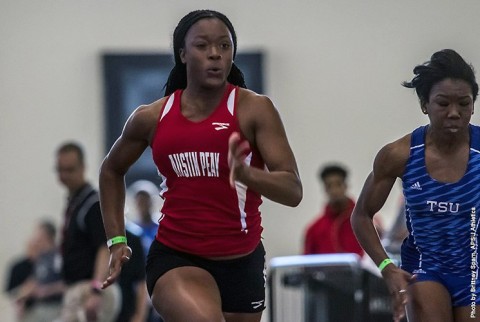 The day was opened by a solid showing from junior
Molly Jordan
in the mile run. Her 5:28.14 mark earned her third-place honors in the event.
Jordan and the rest of APSU's distance medley relay squad—juniors Michaela McGhee, Tamira Wilson and Unjula Lester—also finished third in the DMR with a 12:52.68 mark.
Senior Kymmalett Ross equaled her career best in the 60m dash finals, hitting 7.62 to take runner-up honors in the event, one-hundredth of a second off the school-record pace set by Erika Adams in 2015. Ross also scored a runner-up honor in the 200m with a 24.72 mark, while junior Terri Morris (25.65) and senior Breigh Jones (26.04) also joined her in the final.
"Ross had nice runs in the 60 and the 200," Molnar said. "She looked strong all day long."
Junior Myiah Johnson paced Austin Peay's trio of 60m hurdles finalists, earning runner-up honors with an 8.64 mark. Close behind her were sophomore Sonja White (sixth, 8.97) and junior Amia Butler (seventh, 8.98).
Butler wasn't finished, as she would later hit 5.48m (17-11.75) in the long jump, finishing fifth overall in the 39-competitor field.
In 400m finals action, Jones finished third with a 57.48 run while Morris posted a sixth-place, 58.33 finish.
In field action, freshman Dascha Hix had a personal-best 3.65m (11-11.75) in the pole vault, sharing top honors with Carson-Newman's Tori Gaul.
"I thought Dascha's effort in the vault was outstanding," Molnar said.
The Govs will take a smaller group to the Gladstein Invitational in Bloomington, Indiana next week before returning with a full contingent at the Marshall Invitational, January 29th-30th.