Quick Silver Mardi Gras Social Event Brings Second Line Festivity to the Homefront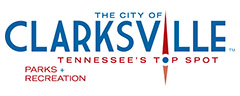 Clarksville, TN – The Clarksville Parks and Recreation Kleeman Community Center in partnership with the Distinguished Steppers Unlimited proudly announces its Spring Quick Silver Social Event, "Mardi Gras Clarksville Style".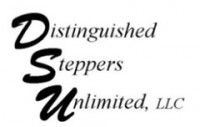 The event will be held at 5:00pm on Saturday, February 20th, 2016 at the Kleeman Community Center located at 166 Cunningham Lane.
Suggested attire is "colorful and festive" but all are encouraged to come "dressed for the fest."
In recent years the Spring Quick Silver Social event has been in "Mardi Gras" style offering community members the fun and festivity of an authentic New Orleans experience without the expense of travel and lodging.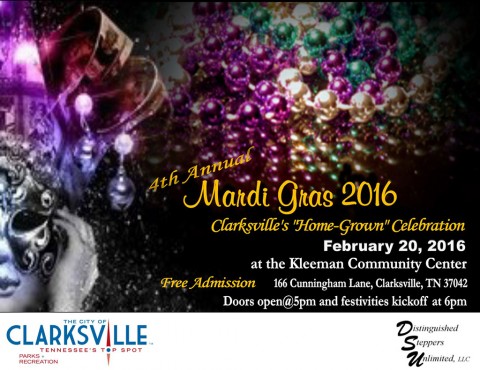 A bountiful Cajun menu, festive brass music, dance, feathered masks, colorful beads and the festivity of the Second Line Dance displaying a variety of decorated umbrellas in a vibrant array of colors is what this event will display.
The Quick Silver Social events offer this experience to the community, making wholesome adult entertainment enjoyable, accessible and affordable.
The Distinguished Steppers Unlimited recognizes the importance of staying fit and healthy, that regular physical activity helps keep the body healthy, improves coordination and keeps minds sharp for individuals of all ages—one of the easiest ways to do this is simply through dance. And DSU believes that group relationships provide support for positive attitudes through wholesome social interaction. The vision is to promote community involvement and specifically promote a healthy lifestyle through the form of dance.
The Quick Silver Social events have been a unique opportunity to form a productive relationship with Clarksville Parks and Recreation Kleeman Center to create more effective outreach to the broader community. The "Mardi Gras" event was developed primarily for senior community members; however, all adult community members are welcome to attend and join in this wholesome and "grown-up" fun-filled evening.
And, the Quick Silver Social events allow community members to enjoy the experience with free admission. At a time with a growing retirement population, the City of Clarksville Parks and Recreation and the Distinguished Steppers offer this event making fun accessible for many adults living with limited financial resources and many who live on fixed incomes.
For more information, call 931.645.7476 or contact Kathleen Evans at 931.378.9422 or visit our website at www.distinguishedsteppers.com for more information in this and other upcoming events.