Tennessee State Representative Curtis Johnson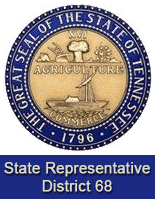 Nashville, TN – House Bill 2578 passed out of the House Government Operations Committee this week (March 1st) and is scheduled to be heard in the Finance, Ways & Means Subcommittee this next Wednesday.
Last fall, Tennessee saw a 10 percent increase in overall first-time freshman enrollment in our public higher education institutions and a nearly 25 percent increase in first-time freshman enrollment at community colleges.  The purpose of the legislation is to better align our postsecondary colleges and universities to meet the goal of graduating more Tennesseans with post-secondary certifications.
The FOCUS Act, which is part of Governor Bill Haslam's legislative priorities, includes:
A sharpened focus by Tennessee Board of Regents (TBR) on the state's 13 community and 27 technical colleges;
Creation of local boards for Austin Peay State University, East Tennessee State University, Middle Tennessee State University, Tennessee State University, Tennessee Technological University and the University of Memphis;
An enhanced role of Tennessee Higher Education Commission (THEC) to provide greater coordination across the state, to include capital project management, institutional mission approval and higher education finance strategy; and,
Creation of a transition task force consisting of higher education, business and community leaders from around the state that will serve as the administrative and advisory body throughout the transition.
TBR would continue to provide key administrative support to the six state universities under the plan. The Tennessee Higher Education Commission would assume an enhanced coordinating role in higher education, ensuring progress on a cohesive, statewide master plan; maintaining academic program quality; and formulating a strategic finance plan for state higher education.
The Government Operations Committee particularly focused on how the legislation impacts boards and commissions.  House Bill 2578 has also traveled through the Education Administration and Planning Committee and Subcommittee.  If it passes out of the Finance, Ways and Means Subcommittee this coming week, it will then go to the full committee for their consideration.
Representative Curtis Johnson is one of two legislators who serves on the Transition Steering Committee and is a co-sponsor of the legislation.
National Guard Force Protection Act passes House
Thursday, the House voted to increase safety for our military recruitment centers around the state.  This bill is in direct response to the horrible terrorist attack last year on the military installation in Chattanooga that claimed the lives of 4 young soldiers.
House Bill 1438,  enacts the "National Guard Force Protection Act."   This bill requires the Department of Military to enhance National Guard facilities with these items:
Aiphones (site to site phones)
Shatter resistant film (bullet proof)
Cameras
Magnetic locks with keypads
Mobile ballistic shields
Additional barriers (permanent, automatic and removable)
GSA Glass 5 safes
Efficiency in Handgun Permitting Act
Efficiency in Handgun Permitting Act to be heard in Finance, Ways and Means Subcommittee
The "Efficiency in Handgun Permitting Act" which aims to improve the process for gun owners and lowers the fee associated with obtaining a handgun carry permit is scheduled to be heard in the House Finance, Ways and Means Subcommittee this Wednesday.  House Bill 2575 is part of a package of bills submitted to the legislature by Governor Bill Haslam.
The legislation extends the current five-year handgun carry permit to eight years, lowers the initial handgun permit fee from $115.00 for five years to $100.00 for eight years and expands the renewal cycle from six months to eight years after the expiration of a permit before a person must reapply as a "new" applicant.
Under the proposal, background checks will continue to be conducted at the time of initial issuance and at the time of renewal. Additionally, an internal background check will be conducted in the fourth year of the eight-year permit without charge.  It also gives a member of the armed forces, whose permit does not expire while deployed until two months after their return to Tennessee, the same eight-year period after expiration that a civilian has to renew a permit before having to reapply as a new applicant.
For more information about the Tennessee General Assembly, check our website at www.capitol.tn.gov