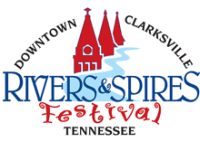 Clarksville, TN – Behind the scenes at the Rivers and Spires Festival, hundreds of volunteers invest time and energy into keeping the festival clean, safe and fun for all attendees.
In 2015, more than 300 local high school students volunteered their time in Rivers and Spires' Family Fun Zone and Toddler Town areas. In all, the students logged nearly 900 hours of service time.
Two of the participating schools were selected to win last the Mayor's Volunteer Cup Trophy in 2015 based on service hours, student participation, and attitude.
Northwest High School was recognized for having 70 students volunteering an average of three hours each, and Northeast High School turned out 58 students with an average of 5.3 service hours per student. ROTC members assisted in the Family Fun Zone and stood guard at checkpoints.
Students receive valuable experience through their volunteer efforts. "We see growth in cadets as they volunteer, lead, and gain friendships throughout the hours. These cadets grow through demonstrating the utmost respect for the families at the event, the leadership it takes to help the organizers make sure our area runs smooth, and the dignity to take so much time out of their lives to help with Rivers and Spires. We cannot wait to come back and volunteer year after year," said Anthony Warner, Cadet Captain for Northeast High School Cadet Corps.
Northwest High School echoes similar sentiments and commits not only to volunteering, but transports all 70 student-volunteers to and from the festival to make service hours accessible to all.
"Volunteering is something that we feel is an integral part of our character development for our young men. We are trying to build great husbands, fathers, and great people of humility and character. We believe that by helping someone else, without reward, we are showing our kids how to be unselfish, to care about others, and to take care of one's neighbor. You never know what kind of hand life deals, but we encourage them to persevere regardless of their circumstances," said Vernon Wright, Head Football Coach, Northwest High School.
"We are intentional about creating lifelong community supporters. We look forward to continuing our service to the make the great city of Clarksville better," he continued.
All told, more than 600 individuals give their time and efforts toward making Rivers and Spires a success each and every year and volunteer involvement is a key piece to keeping the festival entirely free.
"Volunteers are a big part of how we manage to keep Rivers and Spires a free event. It takes some creativity and a whole lot of help. I look at students from Northeast and Northwest High Schools and feel great about what they are learning in one short weekend about giving back to their community, interacting with the public and managing logistics," said Theresa Harrington, Executive Director of Visit Clarksville.
"We've had some incredible teams and groups step up in recent years and challenge others to do the same," she continued.
Clubs, teams and civic organizations are encouraged to volunteer as a group. Individuals are always welcome as well. To register as a volunteer, please visit www.riversandspires.com/applications or contact Lori Barnes, 931.245.4347 or
About the Rivers and Spires Festival
The 14th annual Rivers And Spires Festival will be held April 14th-16th in Downtown Clarksville. This event has five stages of entertainment with over 100 entertainers performing all three days. From children's activities, arts & crafts, car shows, military exhibits, shopping and so much more this is truly an event for the whole family. Admission to the Festival is free including all games, activities and concerts.
Rivers and Spires is one of the biggest festivals in the southeast. Hours this year are: April 14th and 15th from 5:00pm-10:00pm and April 16th from 10:00am – 9:00pm. The Family Fun Zone Hours: Friday, April 15th from 5:00pm-8:00pm and Saturday, April 16th from 10:00am – 8:00pm. Toddler Town Hours: Friday, April 15th from 5:00pm-7:00pm and Saturday, April 16th from 10:00am – 7:00pm.
For more information about the 2016 Festival, please visit www.riversandspires.com
Become a fan on Facebook and follow us on Twitter @riversandspires