Tennessee State Representative Curtis Johnson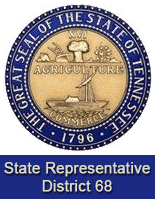 Nashville, TN – Three citizens from Clarksville testified before the House Local Government Committee this week urging support for House Bill 2156 which helps restore some property tax relief for disabled veterans. There are currently several bills dealing with Property Tax Relief for veterans.

"I support these bills, and feel strongly that some tax relief will be funded in the 2016-17 budget," Tennessee State Representative Curtis Johnson said.

Ms. Sherry Pickering with the Montgomery County Veterans Coalition was first to testify. Also adding their expertise were Brenda Radford, Montgomery County Trustee, and Bill Summers, legislative representative for the Military Officer Association of American and a retired Air Force Officer.

There are over 506,000 veterans in the State of Tennessee and over 42 percent are over the age of 65. There are 97,994 veterans receiving disability compensation in the State of Tennessee.

Our military personnel, veterans, and their families have made huge sacrifices to secure our freedom and our American way of life for all of us. "I will fight for the restoration of these benefits during the budget process," Rep. Johnson said.
Haslam announces 81 percent Retention Rate for Promise Students
Retention numbers indicate early success for first class of Tennessee Promise students
Tennessee Governor Bill Haslam announced that 81 percent of the 2015-16 class of Tennessee Promise students returned for the spring semester after beginning classes last fall.
This high retention rate for Tennessee Promise students is a significant indicator they are on pathways to success in higher education.
"When we launched Tennessee Promise, our goal was not only to get more students to enroll in a technical or community college but also to see the students succeed and graduate," Haslam said. "Students must receive post-secondary credentials if we're going to achieve the goal of Drive to 55, and we will continue to work with our campus leaders to ensure these students have the highest possible chances of attaining their certificate or degree."
In fall 2015 there was a 24.7 percent enrollment increase at community colleges and a 20 percent enrollment increase at colleges of applied technology (TCATs).
Data provided by the Tennessee Higher Education Commission indicates that Tennessee Promise students enrolled at a TCAT had a retention rate of almost 95 percent while community college students were retained at a rate of 78.5 percent. The community college data also includes Austin Peay State University, the single public university with associate degree students.
The retention rates for Tennessee Promise students by college are:
Austin Peay
88.7%
Chattanooga State
78.4%
Cleveland State
74.5%
Columbia State
74.9%
Dyersburg State
81.1%
Jackson State
81.9%
Motlow State
84.8%
Nashville State
81.2%
Northeast State
77.1%
Pellissippi State
77.2%
Roane State
72.1%
Southwest
84.8%
Volunteer State
73.4%
Walters State
75.5%
All 27 TCATS
94.7%
Total Average
80.6%
Online Voter Registration System
Legislation Establishing an Online Voter Registration System for Tennesseans approved by House Finance, Ways and Means Subcommittee

Legislation providing for the establishment of an online voter registration system for Tennesseans was approved by members of the House Finance, Ways and Means Subcommittee on Wednesday. Under House Bill 1742 voters with an unexpired driver's license or personal identification card issued by the Department of Safety will be able to go to an official state website where they will be able to register to vote online.

The voter registration application would be reviewed electronically. If the request is confirmed to be valid, the new registration would be added to the state's voter registration list after being reviewed by the respective county election commission office. The validation step is done by comparing the information on the online registration form against the information provided by the same individual when he or she received a driver's license or state-issued identification card.

The signature already on record with the state would become the signature on record for voting. If the information does not match, applicants would be directed to print and complete the application and mail it to the county election commission office in their county of residence to be processed.

Twenty-nine states plus the District of Columbia offer online registration. This bill will take effect July 1st, 2016, and requires that the online registration be available for public use by July 1st, 2017.

Contact Information

Rep. Curtis Johnson
15 Legislative Plaza
Nashville, TN 37243
615.741.4341

For more information about the Tennessee General Assembly, check our website at www.capitol.tn.gov



Sections
Politics
Topics
APSU, Austin Peay State University, Bill Haslam, Bill Summers, Brenda Radford, Clarksville TN, Curtis Johnson, District of Columbia, Drive to 55, HB 1742, HB 2156, Montgomery County Trustee, Montgomery County Veterans Coalition, Nashville TN, Online Voter Registration, property tax relief, Save our Property Tax Relief, Sherry Pickering, TCAT, Tennessee, Tennessee Department of Safety, Tennessee Driver's License, Tennessee General Assembly, Tennessee Governor, Tennessee Higher Education Commission, Tennessee Promise, Tennessee State Representative, Veterans, Voter Registration