Clarksville, TN – Thomas Herbert, 8th Earl of Pembroke, was a great many things during his life. A British statesman during the reigns of King William III and Queen Anne, Herbert served, at different times, as First Lord of the Admiralty, Lord High Admiral of the Royal Navy and Lord Lieutenant of Ireland.
In his private life, Herbert was also a prolific collector, amassing a vast array of, among other things, works of art and classical sculpture.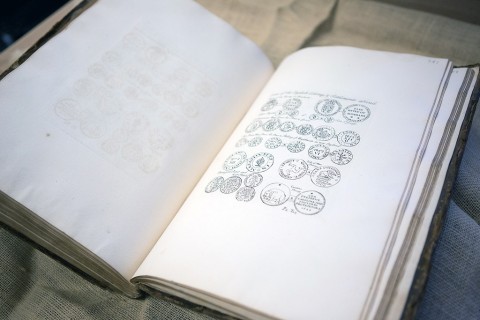 But his real passion lied in coin collecting, and in 1729, he commissioned Italian composer Nicola Francesco Haym to document his collection in the form of a catalogue.
Known as "The Pembroke Collection," the heavy, leather-bound book was published in 1746 and contains over 200 pages, split into four volumes and an index, of illustrations of Herbert's massive collection. While interesting as a whole, the rare collection is of particular note to American colonial historians because of its depiction of 11 coins struck during the earl's lifetime that were currency in the then-American colonies – among the earliest such images known to historians.
Few copies of the Pembroke Collection have survived to modern day, but one such complete edition recently found its way to the University Archives and Special Collections at Austin Peay State University's Felix G. Woodward Library.
The copy now in the University's possession previously belonged to APSU alumnus James Karr (1970), whose father had purchased it some 40 years ago from an antiques dealer. When Karr's father died in 1990, the book remained in his possession before deciding his alma mater – and future generations of APSU students – might find use in a document with such historical value.
"I thought that, because of the book's rarity, it might be an object of interest and curiosity to people who may have never seen a 270-year-old book, and that because so few libraries own an original copy, it would be nice for the Woodward Library to have its own," Kaar said.
The large edition in APSU's possession is rare among even other copies of the Pembroke Collection, as it contains all four volumes and an index of the documented coins. Other similar editions contain just three, and some even two, volumes, with the "rare" fourth volume containing Herbert's collection of American colonial coins.
"As far as we can determine, just six other libraries in the United States have a copy of the Pembroke collection, including the University of Missouri-Columbia, University of Chicago, University of Kansas, Pennsylvania State University and the New York Public and Metropolitan Museum of Art," Sean Hogan, APSU special collections librarian, said.
For further information or to schedule an appointment for use of University Archives & Special Collections materials, contact Scott Shumate at or Sean Hogan at