Austin Peay Sports Information

Bowling Green, KY – Austin Peay State University track and field team enjoyed a solid second day at the 2016 Hilltopper Relays, hosted by Western Kentucky at Charles M. Reuter Track and Field Complex.
Although there was nothing likely to top Savannah Amato's Friday night pole vault performance, the Governors nonetheless posted good marks after the short trek north.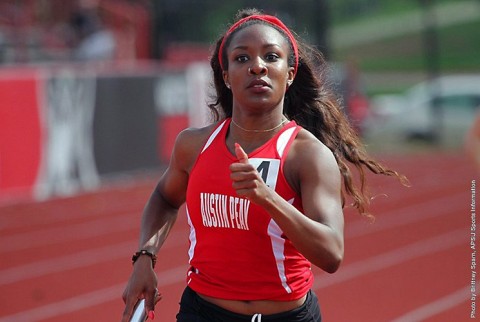 "Long, cold day today," said head coach Doug Molnar. "We had to battle the conditions, but we need to become more consistent regardless of weather and make sure we're taking care of everything else."
Senior Kymmalett Ross, as she often has this season, walked away with Austin Peay's best Saturday finish. Her 24.52 mark in the 200m dash accorded her third-place honors, behind only Western Kentucky's Carrol Hardy among collegiate athletes—Hardy is one of the region's premiere short-sprinters, ranking 11th in the 100m dash among NCAA East athletes entering the weekend.
Ross also ran the 100m this weekend, posting a seventh-place showing thanks to a 12.11 run that equaled her season best.
Western Kentucky 400m record holder and current APSU assistant Valerie Brown oversaw Terri Morris' outing in the 400—Morris placed sixth with a 56.94 run.
Morris and Ross were joined by Breigh Jones and Allysha Scott in the 4x400m relays—the quartet's 3:55.29 mark brought them fifth-place honors.
APSU's track showing was bolstered by ninth-place finish from Rebecca Wheeler in the 3000m steeplechase; Wheeler's 12:06.54 was just over a second off her personal best.
In field event action, freshman Nia Gibbs-Francis earned a share of seventh place after a personal-best 1.55m (5′ 1.0″) high jump mark. Another Governor, Chancis Jones, just barely missed out on a top-eight showing; she settled for ninth in the long jump with a 5.59m (18′ 4.25″) mark.
"This sets us up for next week," Molnar said. "This is a stepping stone; we got some good work in and we'll move forward."
The Govs return home to compete next weekend at the annual APSU Invitational. The two-day event begins 5:00pm, Friday, at Governors Stadium.