Clarksville, TN – On Saturday, May 7th, 2016 at 4:53pm, Clarksville Police Officers responded to a Robbery at 1475 Madison Street. Upon arrival an Officer made contact with Sherry Stock.
Stock stated while getting out of her car in the parking lot of the Family Dollar, a young black male, wearing khaki pants and wearing no shirt, approached her with a knife in his hand. Stock stated the unidentified black male reached for her purse.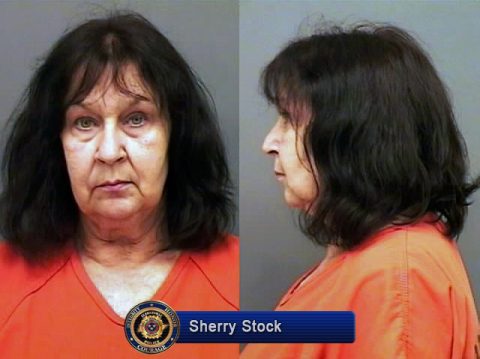 While Stock pulled away from the unidentified black male, she was cut with what she believed to be a pocket knife. Stock stated she received a small cut on her left arm.

After watching video surveillance it was determined that the Robbery never occurred. Stock said that she had lied about the Robbery.

Stock was taken into custody for False Report and transported to Montgomery County Jail.
Why Publicize False Report Arrests?
First, the following are facts about the investigation (resources utilized for a crime that did not occur):
The Officers on the scene spent almost 1 hour investigating what took place.
11 CPD Officers responded to the call, which includes 2 K9s that were called to track the suspect. This was a large scene and multiple Officers were used to secure the perimeter and process the scene.
A Medic Unit was on scene, due to Stock stating she was injured from the alleged robbery.
Finally, Filing a False Report is a felony.
Next, who is affected?
Everyone! Yes. You could be affected. False reports generate unnecessary public fear or concern, take personnel away from other calls for service- increasing response time for real victims, and an innocent person could be accused of a crime that did not occur because he or she matched the description given.
If it weren't for the video footage showing that there was no crime, which led to Stock's confession, there's no way to tell how much more time and effort would have been put into this investigation.
Sherry Stock
Name: Sherry Stock
Gender: F
Race: W
Address: Valley View Circle, Clarksville, TN
Arresting Officer: Riley
Charged With: False Report
Booked Into: Montgomery County Jail
Bond: $2,500.00
Sections
News
Topics
Bond, Clarksville Police, Clarksville Police Department, Clarksville TN, CPD, False Report, Family Dollar, Madison Street, Montgomery County jail, robbery