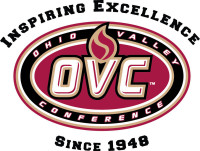 Brentwood, TN – The 2016 Ohio Valley Conference Baseball Championship field is now set. The event will be held May 25th-29th at The Ballpark at Jackson (formerly Pringles Park) in Jackson, Tennessee.
This year marks the seventh year in a row the event will be held at the venue, which is home of the Jackson Generals, the AA-affiliate of the Seattle Mariners.
Southeast Missouri (35-18, 22-8 OVC) captured its third-straight and fourth overall OVC Championship under fourth-year head coach Steve Bieser. The are only the second OVC team since the end of divisional play in 1989 to win three-straight outright regular season championships (and are the only program to win three-straight outright titles).
The Redhawks are appearing in its 22nd-straight OVC Tournament this year, which is an all-time OVC record for consecutive appearances (the second place mark is 13-straight years). As the No. 1 seed Southeast Missouri will open play on Thursday night at 7:00 p.m. after receiving a first round bye.
Jacksonville State (32-22, 20-10 OVC) qualified for its 13th-straight OVC Tournament and earned a first round bye in winning its final three Conference games of the season to grab the No. 2 seed. The Gamecocks open tournament play on Thursday at 3:00pm. JSU is in search of the program's fifth OVC Tournament crown and first since 2014 when they lost on the first day of the event only to win six-straight games and win the title.
Austin Peay (28-21, 17-9 OVC) is back in the OVC Tournament field for the first time since 2013, which was when the Governors finished a run of three-straight OVC Tournament crowns. APSU is 10-1 all-time in OVC Tournament games played at The Ballpark at Jackson. The Govs are under the direction of first-year head coach Travis Janssen, who helped the team win six of its final seven Conference games of the season. Overall this marks the program's 24th OVC Tournament appearance which is second-most in League history.
Defending tournament champion Morehead State (31-25, 17-13 OVC) earned the No. 4 seed and have won 10 of its final 17 games entering the postseason. Overall the Eagles have reached the 30-win plateau for the second-straight season, the first time the team has achieved that mark. MSU is currently leading the OVC in team batting average (.317). Morehead State will play No. 5 seed Tennessee Tech on Wednesday at 1:00 p.m. in the first game of the tournament.
Tennessee Tech (31-22, 17-13 OVC) is in the OVC Tournament field for the fourth year in a row and eighth time in nine years after sweeping Eastern Kentucky the final weekend of the regular season. Overall the Golden Eagles have won six of seven and 10 of its last 13 games including winning three-straight Conference series. Tech will be the No. 5 seed and play No. 4 seed Morehead State on Wednesday to kick off the event.
For the third time in four years as a member of the league, Belmont (31-25, 17-13) has qualified for the OVC Tournament field. The Bruins have hit 73 home runs this season which established a new single-season school record. Belmont will be the No. 6 seed and take on No. 3 seed Austin Peay on Wednesday at 5:00pm.
Fans can watch the entire 2016 OVC Baseball Tournament live on the OVC Digital Network. There is no charge to watch the event and the games are available on any computer, tablet or smart phone by live and on-demand.
Tickets for the event will be $10.00 per day or $28.00 for an all-session pass (up to 11 total games). There is also an $8.00 a day rate (or $25.00 for an all-tournament pass) for students/faculty of OVC-member schools (with valid ID) or for groups. All seats at the 6,000-seat park are general admission for the OVC Championship.
Fans can purchase tickets in person at the Jackson Generals box office or by calling 731.988.5299 or going online here: https://www.ticketreturn.com/prod2/team.asp?sponsorid=7721#.VVJZ2o5Vikr.
2016 OVC Baseball Championship Schedule
Wednesday, May 25, 2016
Game 1: #4 Morehead State vs. #5 Tennessee Tech,
1:00 p.m. | Live Video | Live Stats |
Game 2: #3 Austin Peay vs. #6 Belmont,
5:00 p.m. | Live Video | Live Stats |
Thursday, May 26, 2016
Game 3: Loser Game 1 vs. Loser Game 2,
11:00 a.m. | Live Video | Live Stats |
Game 4: #2 Jacksonville State vs. Best Seeds Games 1/2 Winners, 3:00 p.m.
| Live Video | Live Stats |
Game 5: #1 Southeast Missouri vs. Worst Seed Games 1/2 Winners, 7:00 p.m.
| Live Video | Live Stats |
Friday, May 27, 2016
Game 6: Winner Game 3 vs. Worst Seed Games 4/5 Losers,
11:00 a.m. #
| Live Video | Live Stats |
Game 7: Winner Game 6 vs. Best Seed Games 4/5 Losers,
3:00 p.m. #
| Live Video | Live Stats |
Game 8: Winner Game 4 vs. Winner Game 5,
4:00 p.m.
| Live Video | Live Stats |
# EXCEPTION: If one of the game 4 or 5 losers has already had a bye, that team will play in game 6, regardless of seed.
Saturday, May 28, 2016
Game 9: Winner Game 7 vs. Loser Game 8,
12:00 p.m.| Live Video | Live Stats |
Game 10: Winner Game 8 vs. Winner Game 9,
4:00 p.m.
| Live Video | Live Stats |
Sunday, May 29, 2016
Game 11: Game 10 Matchup Repeated,
12:00 p.m. (if necessary)
| Live Video | Live Stats |