Tennessee Representative Joe Pitts
New sign program to recognize victims of DUI accidents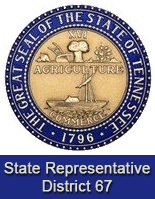 Clarksville, TN – On Friday, June 3rd, at 10:00am, Tennessee State Representative Joe Pitts (D-Clarksville) and State Senator Kerry Roberts (R-Springfield), and other invited guests, will join Gina Head-Heiber, mother of Tyler Head, to unveil the first sign of a new memorial sign program recognizing victims of accidents involving a DUI driver along state highways.

The brief ceremony will be held in the parking lot of 1501 Madison Street (parking lot of the former Cumberland Grille restaurant — next to Bridgett's garden center.  Please do not park in the garden center's lot.)

Sponsored by Rep. Pitts and Sen Roberts, the new law will allow immediate families of DUI victims to apply to the Tennessee Department of Transportation to have a memorial sign erected that reads "Impaired Driving Costs Innocent Lives" and "In memory of " the victim tragically killed in an accident by an impaired driver.

The law is named for Tyler Head, the young Austin Peay student who was killed on his way to class in 2012 by an impaired driver on Madison Street.  Gina Head-Heiber contacted Rep. Pitts and Sen Roberts and asked them to sponsor the legislation to enact this new program as a means to honor the innocent victims of accidents, and raise awareness of the high cost of driving while under the influence of drugs or alcohol.

"Tyler was a vibrant, fun, hardworking, Christian young man, who lit up the room with his presence and everyone that came in contact with him was better off for having known him! My prayer is that this new memorial sign program will bring more awareness to impaired driving and will help prevent other innocent lives from being lost," said Gina Head-Heiber.

Mothers Against Drunk Driving was also instrumental in getting the new law passed.  Kate Ritchie, with MADD attended committee hearings and offered testimony in support of the legislation.  "Impaired driving is an epidemic in this country and one that continues to impact lives every day across Tennessee roadways. By honoring the families of loved ones with memorial signs we are letting victims and survivors know that they are not alone.  That their pain and suffering is not forgotten. And that impaired driving driving is a completely preventable crime," Kate Ritchie stated.

Sen. Roberts stated, "Tennessee is the newest state to have a memorial sign program to honor those tragically killed by drivers under the influence. Tyler Head, the law's namesake, was lost driving to class at Austin Peay in a senseless accident. To honor Tyler, his mother, Gina, has worked tirelessly to make this law reality. All the credit goes to Gina, and I deeply appreciate her giving me the privilege of carrying this bill. It is our sincere hope that these memorial signs will save lives by reminding people not to drive while impaired."

"Tyler's mother, Gina Head Heiber, has turned her family's tragedy into an opportunity to raise awareness of the impact of impaired driving," said Rep. Pitts.  "This new memorial sign program will be a fitting way to pay tribute to those who are killed, and I appreciate Senator Roberts for his leadership in the Senate in this matter."

A representative from Austin Peay State University will also be present to award a diploma to Tyler Head posthumously.

This law takes effect on July 1st, 2016.  After July 1st, please go to the Tennessee Department of Transportation's website at www.tn.gov/tdot for more information.



Sections
Events
Topics
APSU, Austin Peay State University, Clarksville TN, DUI, Gina Head-Heiber, Joe Pitts, Kerry Roberts, MADD, Madison Street, Mothers Against Drunk Driving, Springfield TN, TDOT, Tennessee, Tennessee Department of Transportation, Tennessee Senator, Tennessee State Representative, Tyler Head, Tyler Head Law