APSU Sports Information
Jackson, TN – After a two-year hiatus, Austin Peay State University's baseball team returns to the Ohio Valley Conference Baseball Championship.
The Govs open the double-elimination tournament with a 5:00pm, Wednesday contest against Belmont at The Ballpark at Jackson.
The Governors return to the tournament for the first time since completing their "Three Peay-t" in 2013.
The remarkable three-year run (2011-13) saw them post a 10-1 record in their first three trips to Jackson. Coincidentally, that three-year span started after another two-year drought (2009-10).
Only two Governors – seniors Jared Carkuff and Wesley Purcell – remain from the 2013 team that last played in the tournament. In addition, only two members of the Govs coaching staff were a member of that squad – assistant coach Derrick Dunbar and volunteer assistant A.J. Gaura (as a player).
Pitching Matchup: Belmont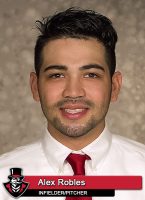 A rematch of the April 15th series opener awaits at Austin Peay No. 1 Alex Robles will face Belmont No. 1 Aaron Quillen in Wednesday's tourney opener for both teams. Robles will seek redemption against the Bruins after failing to make it out of the sixth inning in that earlier meeting. He was tagged for 10 runs on 12 hits in 5.1 innings, facing 30 batters.
Quillen struck out 16 Governors batters through seven innings and allowed two hits as he combined with reliever Kyle Klotz to shutout APSU. The 15-0 loss was the first time Austin Peay had been shutout since March 17th, 2015. Junior Logan Gray's pinch-hit single in the seventh ended six no-hit innings by Quillen, one of three hits by the Govs.
First Hacks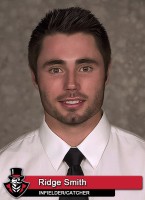 The Govs are ranked among the nation's Top 25 in slugging percentage (6th, .498), batting average (20th, .308), on-base percentage (19th, .401), doubles per game (9th, 2.34), home runs per game (9th, 1.23) and scoring (15th, 7.74 runs per game).
Eight different Govs hitters have pieced together a reached-base safely streak of 10 or more games at some point this season – five of those double-digit streaks are active entering the tournament.
Junior Ridge Smith has reached base safely in 16 consecutive games (started April 24th); he is batting .321 during the streak with a .486 on-base percentage (16 walks). Junior designated hitter/pitcher Alex Robles owns a 13-game reached-base safely streak (started April 24th), batting .318 with a .426 on-base percentage.
Junior second baseman Garrett Copeland also has reached safely in 13 straight games since April 30th but is batting just .212 with 14 walks (.388 OBP). Junior left fielder/third baseman Logan Gray owns an 11-game reached safely streak (started May 6th) that has seem him bat .340 with a .436 on-base percentage (eight walks).
Senior center fielder Patrick Massoni brings a 10-game reached-base safely streak into Jackson (started May 7th), batting a team-best .444 over those 10 games with a .500 on-base percentage (five walks).
Junior first baseman Dre Gleason enjoyed the last two weekends of regular-season play, posting a .429 batting average and .536 on-base percentage in series against SIU Edwardsville and Oklahoma.
Senior shortstop Clayton Smithson posted a .333 batting average and had a team-best eight RBI during those last two weekends. Junior right fielder Chase Hamilton also had eight RBI in the last two weekends, batting .429 with three doubles and three home runs (.929 SLG).
Josh Wilson saw himself inserted into the Govs lineup as a left fielder five times in the final two weekends and batted .368 while racking up a team-best seven walks and .556 on-base percentage.
Head coach Travis Janssen is wrapping up his first season at Austin Peay in the program's first coaching change since 1988. The Govs vacated four wins due to the use of an ineligible player, a penalty imposed by the OVC, May 16th.
Toeing the Rubber
Junior right-hander Alex Robles looks for his 10th win of 2016 when he faces Belmont. He would become the first Govs pitcher with 10 wins in a season since 2007 (Shawn Kelley) and only the ninth to reach the mark in program history. He tied Rowdy Hardy for most conference wins in a career (18) with his ninth quality start of the season at SIU Edwardsville, May 13th.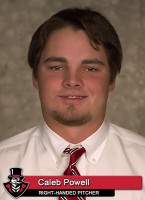 Junior right-hander Caleb Powell posted a win in his first start as the Govs No. 2 at SIUE, May 14th. He did not earn a decision against Oklahoma, May 19th, despite holding the Sooners to one run through five innings. Powell is 7-1 with a team-best 3.62 ERA as a starting pitcher this season.
Sophomore left-hander Michael Costanzo notched his seventh home win in eight starts with a May 21st victory against Oklahoma. He has not won away from The Hand this season, posting a 0-3 record in six road starts. Costanzo was 1-0 with a 5.25 ERA in 12 innings while holding opponents to a .244 batting average over the final two weekends.
In the 24 weekend games since the Govs turned to the Robles-Powell-Costanzo trio, Austin Peay's bullpen has posted a 4.12 ERA, 8.47 strikeouts per nine innings and held opponents to a .240 batting average.
APSU vs. Tourney Field
Austin Peay posted a 5-8 record (after vacating two wins) against the 2016 OVC Tournament field, but played four of the five teams on the road. The Govs only faced regular-season champion Southeast Missouri at home, handing the Redhawks their first two OVC losses.
APSU won series at Tennessee Tech and Belmont, but lost the series at Morehead State and were swept at Jacksonville State. Austin Peay's offense struggled against the league's other tourney qualifiers, averaging just 5.46 runs per game and batting just .253 with a .339 on-base percentage.
First baseman Dre Gleason had a team-best 10 RBI against the field. Centerfielder Patrick Massoni owned a team-best .313 batting average. The Govs pitching staff fared little better, posting a 6.77 ERA while opponents hit .295 against the staff.
Reliever Jared Carkuff went 2-0 against the other five teams in the field. Starter Alex Robles was just 2-3 with a 6.15 ERA (losses to Belmont, Jacksonville State and Morehead State).
Broadcast Information
Watch Live: www.ovcdigitalnetwork.com
Digital Audio: Audio for all baseball contests available free online at www.LetsGoPeay.com/listen
Live Statistics: www.PeayStats.com
Twitter: @AustinPeayBSB