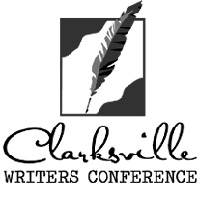 Clarksville, TN – James D. "Jim" Spires wrote West End under the pen name Crockett White. He is also author also of Read All About It: The Corporate Takeover of America's Newspapers (Times Books, 1993), Secrets of the Hopewell Box (Random House, 1996), Bigger 'n Texas (2013), Horse of a Different Color (2002, after his Horse Monarchos won the 2001 Kentucky Derby), and Headless Horsemen (2009).

Squires, a Nashville native, was city editor at The Tennessean, editor and executive vice-president of the Orlando Sentinel, and also at the Chicago Tribune, winning nine Pulitzer Prizes under his leadership.

Winner of the 2016 Patricia Winn Award for Southern Fiction, Squires insisted that numerous of his teachers would be aghast that he was the keynote speaker at a literary gathering. He quoted his hero, Robert Penn Warren, as stating that in the South copulation and story-telling are the chief forms of entertainment, that both are inexpensive, and are easily procured.

Spires insisted his experience is light on the first and heavy on the second, especially when it comes to politics. Politics, in Squires' vocabulary, is all about class, race and culture.

Spires insists that have become a "society with the attention span of a flashbulb," and that "one misleading picture can render impotent a thousand words of truth."

He told about a speaking engagement scheduled in the Lexington library where not one person other than the librarian and two speakers showed up. So then, why bother to write? He questioned. He called to mind some of the humiliating experiences he had as a journalist such as the woman who called to let him know that two blank pages were part of her Orlando Sentinel.

After explaining that these happened at the end of a roll of newsprint, he was shocked to hear that she was not complaining, but was letting him know she liked them better that way!

He also brought to mind some of the reviews of his work that began with words like "UGH!"

Squires insisted that the reason we write is for the sheer love of it. Since earning money from writing is such a gossamer experience, writing for love is possibly the only valid reason. He recalled finding a copy of All the King's Men (Warren, the author, of course) in the middle of the night in a Cambridge (Massachusetts) bookstore while he was the youngest Nieman Fellow in the history of that program at Harvard. It changed his life and during his time at Harvard he wrote a short story that ended up being the first chapter of West End 45 years later.

He said that he had been attempting to learn to write ever since "persisting at the proven ages-old tried and true method of staring at the paper until you shed drops of blood on it and then you tear it up and start over." He also gave credit to good friends who are also writers and have helped with volunteer instruction and editing, favors he has also returned to them.

Squires believes, like Robert Penn Warren, that the story chooses the writer, not the other way around. You don't necessarily know it before you begin writing it but you have to chase it through love of it until you either catch it or find out that you can't.

He concluded by reminding listeners that even if you are a Pulitzer Prize winner or win the National Book Award or are named Poet Laureate or even get filthy rich, on the day of your funeral, the number of people who show up will be determined more by the weather than anything else.



About Sue Freeman Culverhouse
Author of Tennessee Literary Luminaries: From Cormac McCarthy to Robert Penn Warren (The History Press, 2013) Sue Freeman Culverhouse has been a freelance writer for the past 36 years. Beginning in 1976, she published magazines articles in Americana, Historic Preservation, American Horticulturist, Flower and Garden, The Albemarle Magazine, and many others. Sue is the winner of two Virginia Press Awards in writing.

She moved to Springfield, Tennessee in 2003 with her sculptor husband, Bill a retired attorney. Sue has one daughter,  Susan Leigh Miller who teaches poetry and creative writing at Rutgers University.

Sue teaches music and writing at Watauga Elementary School in Ridgetop, Tennessee to approximately 500 students in kindergarten through fifth grade. She also publishes a literary magazine each year; all work in the magazine is written and illustrated by the students.

Sue writes "Uncommon Sense," a column in the Robertson County Times, which also appears on Clarksville Online. She is the author of "Seven keys to a sucessful life", which is  available on amazon.com and pubishamerica.com; this is a self-help book for all ages.

Web Site: http://culverhouseart.com/
Email:
Sections
News
Topics
Annual Clarksville Writers Conference, Chicago Tribune, Clarksville Writer's Conference, Jim Squires, Pulitzer Prize