APSU Sports Information

Clarksville, TN – The Austin Peay football team suited up in shells for their third practice in 2016 on the turf of Fortera Stadium Tuesday afternoon.
APSU ran through two hours and 15 minutes of drills with ramped up intensity and contact.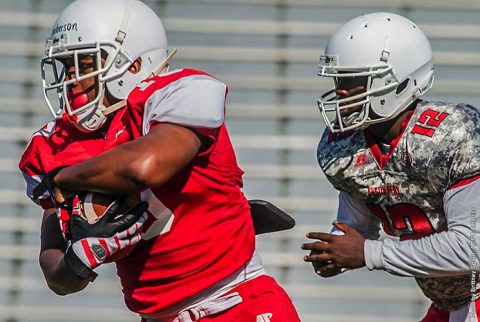 "I was excited at the physicality and our level of intensity we showed today in practice," head coach
Will Healy
said.  "It was a great chance to see our young guys react to contact."
The Govs will return to the field for their fourth practice of the season Tuesday at 3:45pm again wearing shells due to the NCAA acclamation period.
"I'm proud of the direction this team is headed, but we still have to keep improving on a daily basis to get to where we need to be by the time we take the field against Troy," Healy added.
Saturday, August 13th APSU is slated to hold its first scrimmage at 7:30pm.
Want to track the Govs during the preseason? Just follow the #PreseasonGovs hashtag on Twitter.
Fans can also follow all the action from the 2016-17 season on www.LetsGoPeay.com, on Twitter @LetsGoPeay & @AustinPeayFB and on Facebook at www.facebook.com/LetsGoPeay.
Preseason Camp Practice Schedule
Practice 4 (Shells) – Tuesday, August 9th at 3:45pm
Practice 5 (Pads) – Wednesday, August 10th at 3:45pm
Practice 6 (Shells) – Thursday, August 11th at 8:30am
Practice 7 (Pads) – Thursday, August 11th at 7:30pm
Practice 8 (Pads) – Friday, August 12th at 3:45pm
Practice 9 (Shells) – Saturday, August 13th at 8:30am
Scrimmage 1 – Saturday, August 13th at 7:30pm
Practice 10 (Pads) – Sunday, August 14th at 6:30pm
Practice 11 (Pads) – Monday, August 15th at 3:45pm
Practice 12 (Shells) – Tuesday, August 16th at 8:30am
Practice 13 (Pads) – Tuesday, August 16th at 7:30pm
Practice 14 (Pads) – Wednesday, August at 17th at 3:45pm
Practice 15 (Shells) – Thursday, August 18th at 8:30am
Practice 16 (Pads) – Thursday, August 18th at 7:30pm
Practice 17 (Pads) – Friday, August 19th at 3:45pm
Scrimmage 2 – Saturday, August 20th at 2:45pm
2016 APSU Football Schedule
| Date | | Opponent | Special Event | Location | Time |
| --- | --- | --- | --- | --- | --- |
| 9/3/2016 | | Troy | | Troy, Ala. | 5:00pm |
| 9/10/2016 | * | Tennessee Tech | AP Family Day | Clarksville – Fortera Stadium | 6:00pm |
| 9/24/2016 | * | Eastern Illinois | | Charleston, Ill. | 1:00pm |
| 10/1/2016 | * | Murray State | Local Heroes Day, Pink Game | Clarksville – Fortera Stadium | 4:00pm |
| 10/8/2016 | * | UT Martin | | Martin | 2:00pm |
| 10/15/2016 | * | Jacksonville State | | Jacksonville, Ala. | 1:00pm |
| 10/22/2016 | | Mercer | Homecoming 2016 | Clarksville – Fortera Stadium | 4:00pm |
| 10/29/2016 | * | Southeast Missouri | | Cape Girardeau, Mo. | 1:00pm |
| 11/5/2016 | * | Tennessee State | Military Appreciation Day | Clarksville – Fortera Stadium | 4:00pm |
| 11/12/2016 | * | Eastern Kentucky | Senior Day / GOMB Day | Clarksville – Fortera Stadium | 4:00pm |
| 11/19/2016 | | Kentucky | | Lexington, Ky. | TBA |
* denotes a Ohio Valley Conference contest