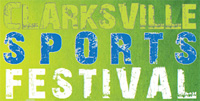 Clarksville, TN – The sixth-annual Sportsfest sponsored by Clarksville Parks and Recreation Department was held Saturday, August 20th at the Wilma Rudolph Event Center located within Liberty Park at 1188 Cumberland Drive.
Scores of families attended the display of sports groups' information and numerous activities outdoors.
Some of the organizations whose booths offered not only information but free gifts were the U.S. Coast Guard, Acme Athletics, Thunderbolt Aquatics, Thirty-One Gifts, AT&T, Clarksville Junior Pro Football and Cheerleading, Rainbow of Clarksville, Montgomery County Minions, Junior Roller Derby, Raja Hot Yoga, Title Boxing Club, Infinity Cheer Tennessee, American Twisters, Clarksville Rugby Club, Highlanders Rugby, Paralympic Sports Club, and Clarksville Kings Lacrosse.
PFD (Personal Flotation Device) Panda, the mascot of the U.S. Coast Guard paid a visit and KAC Concessions, owned by Michelle Kowal, sold chips, candy, soft drinks, popcorn, hot dogs, hamburgers, nachos, funnel cake fries and other treats.
The center of the arena featured various groups performing athletic feats. Members of the Minions showed off their skills at rollerblading. Later, Infinity Cheer Tennessee exhibited gymnastics.
Outdoors archery was available for youngsters who wished to aim at various types of targets. Rugby and lacrosse demonstrations were given in the amphitheater. A kids' inflatable jumping arena could be seen at the end of the event center.
Several hundred parents and children attended the event. Many took home armloads of freebies given out at many of the booths and a drawing was held at the Rainbow of Clarksville booth (owned by Hannah Deal) for a $150.00 Rainmite, a device that humidifies the air in a manner that is superior to household sprays and deodorizers.
The Montgomery County Minions gave away two passes to the Clarksville Zombie Hunters, a paintball experience. Zombie Hunters is one of the sponsors for the Minions.
Although an earlier rain shower prevented a few venders from participating, the Sportsfest was an overall success and should be one of the events every family plans to attend each year.
Photo Gallery