Written by Staff Sgt. Kimberly Lessmeister
101st Sustainment Brigade, 101st Airborne Division (AA) Public Affairs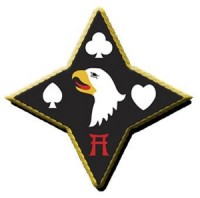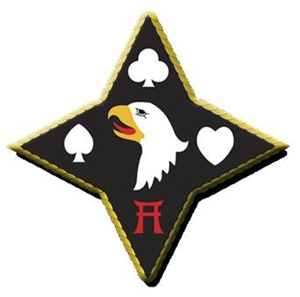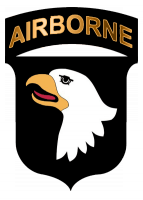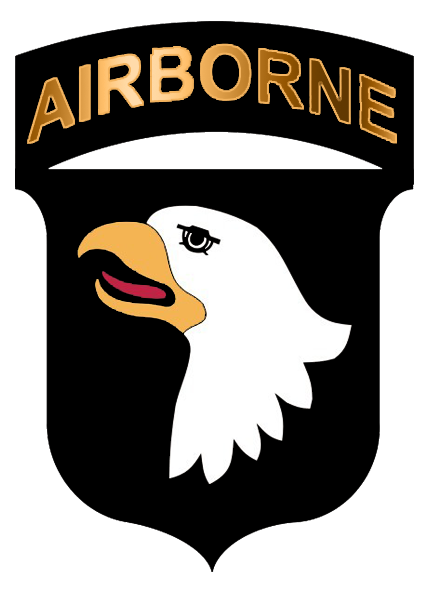 Fort Campbell, KY – Members of Fort Campbell's Comprehensive Soldier and Family Fitness program posed this question to leaders and Soldiers of 101st Airborne Division (Air Assault) Sustainment Brigade "Lifeliners" September 16th during a Great Teams event, here.
Justin Foster, a lead Master Resilience Trainer performance expert with the CSF2 program, led the event for the "Lifeliner" Brigade.
The Great Teams event gathered a cross section of leadership from across the organization to identify what goals and behaviors would make the brigade successful going forward, Foster explained.
"This event helps centralize those differing perspectives from people who've been in the unit for a long time and people who are coming in as new leaders and new members of that organization and helps them come together and have a say in who they're going to be today," he said.
The brigade commander, Col. Stanley Sliwiniski, said he knew he wanted to hold a Great Teams event even before he took command of the brigade in July.
"I knew prior to getting here that I wanted to do an event like this and build a team to set the foundation for where were going to go as a "Lifeliner" team for the next two years that we're together and the legacy that we leave in place for those that replace us," he said. "My vision when I came in here was that I wanted to build an organization to provide world-class sustainment support to the 101st Airborne Division and Soldiers of Fort Campbell."
Participants of the event wore business casual attire, which helped break down barriers of communications between junior and senior Soldiers, according to Command Sgt. Maj. Michael Perry, the 101st Abn. Div. Sust. Bde.'s senior enlisted adviser.
"The commander making this business attire helped set the conditions for those Soldiers or leaders to be able to speak freely and it can be candid, but professional," he said.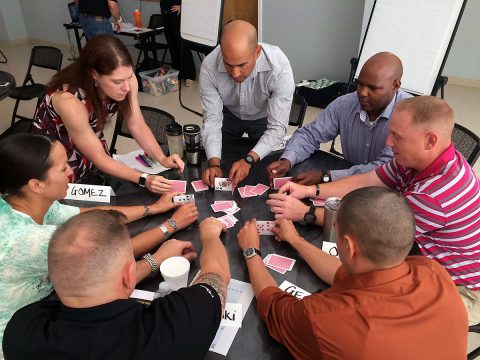 Sliwinski said he was impressed with everyone's participation during the event.
"We're willing to listen and they [Soldiers and leaders] feel like they can say something regardless of rank or position in the unit," he said. "It really creates a climate of trust."
In addition to wearing business attire, Soldiers and leaders sat at tables with people from different units within the brigade and differing ranks, in an effort to encourage communication outside individual organizations.
During the event members of the brigade participated in teambuilding exercises such as seeing which table could stand the most playing cards in a set time and which table could build the tallest free-standing balloon tower.
"It's a way to break the ice and talk about how teams work together to accomplish a task," Foster said.
Teams discussed behaviors and actions that they felt best represented the brigade such as mutual trust, discipline, accountability, transparent communication, and common purpose.
"In order for this brigade and these Soldiers to do the things that the 101st Airborne Division needs us to do, wherever that may be on our next rendezvous with destiny, we've got to have a shared and collective vision in order to have that cohesive team to do the things that were going to need to do," said Perry.
After the Great Teams event, Dr. Rick Grandinetti, a leadership skills trainer Sliwinski first met during a seminar at the University of North Carolina at Chapel Hill, provided training to Soldiers and leaders of the brigade.
"I felt that by bringing [Grandinetti] here, he could create that pride and ownership [in the organization] and the 'Lifeliner' culture and he could help me reinforce my vision to take this brigade to the next level," Sliwinski explained.
Grandinetti discussed leadership at every level and the impact that great leadership has on a team, which he said was applicable to the Great Teams event.
"It was 100 percent relevant because they're talking about teams and in order to have a great team, you have to have a great leader," he said.
Grandinetti said he hoped Soldiers and leaders of 101st Abn. Div. Sust. Bde. took away something from his training session, whether it was to be positive, to not complain, or even to understand that nothing stays the same.
"If I can do one thing to make them come home safer, or bring other people home safer, that's why I want to do it," he said.
A newfound sense of who a "Lifeliner" is today was integral to the unit's future missions, which include deployments to Sinai, Kosovo, and Cameroon, as well as the brigade headquarters assuming the Africa Regionally Aligned Forces sustainment brigade mission beginning in October, said Sliwinski.
"Because we have units going all over the world and representing the "Lifeliner" brand, the "Lifeliner" Brigade and the 101st Airborne Division, it's important that we all come together now to build that brand and then they'll be able to spread that across the globe as we assume these very diverse missions over the next fiscal year," Sliwinski explained.