Clarksville, TN – Through October 30th, 2016, the Planters Bank Peg Harvill Gallery of the Customs House Museum features light-hearted paintings by Nashville Tennessee artist Aaron Grayum.
Large works featuring circus characters within powdery blue and yellow background dance throughout the gallery walls, lacing a sense of nostalgia into the contemporary paintings.
In OK, Grayum sprinkles bits of prose within the patterns of colors. The young boy, reminiscent of The Little Prince, stands atop written thoughts as if he has overcome life's challenges.
Aaron Grayum is an artist and a writer. He often combines the two, incorporating thoughts and words onto canvases filled with elephants, jellybean trees and red umbrellas.
He has a fascination with street magic, old buildings, and Bigfoot, which comes out in his acrylics, cut paper, charcoal, and other mixed media paintings.
The artist says of his work "Every piece of art, in some way, is a self portrait. The work in this show is no exception. They show who I am, who I've been, and how I see the world. When I was a kid, I would draw all kinds of things with all sorts of materials. As a 5-year old, my artistic expertise and understanding of life only went so far. So several dozen trips around the sun later, and with a few more skills in my paintbox, I decided to give a new voice to my childhood self."
The Customs House has brought out items from the permanent collection that celebrate Halloween. Images of vintage postcards highlight costumes and dolls. A "cat" dress from the early 1920's features Halloween designs cut from crepe paper, and the horse drawn hearse (c. 1890-1899) is back on display.
Other exhibits at the museum this month include Women Painting Women. This year's artists represent Texas, Pennsylvania, and Wisconsin, as well as Tennessee. Olen Bryant: Tennessee Treasure celebrates the region's favorite artists with an exhibition of thirty-one works.
Coming from private collectors as well as the Customs House's own permanent collection, the show features delicate women from the 1950's to a large ironing board figure created in 2004. This exhibit runs through October 16th and is sponsored in part by Planters Bank.
For more information on above event contact Terri Jordan, Exhibits Curator, at 931.648.5780 or terri@customshousemuseum.org
About the Customs House Museum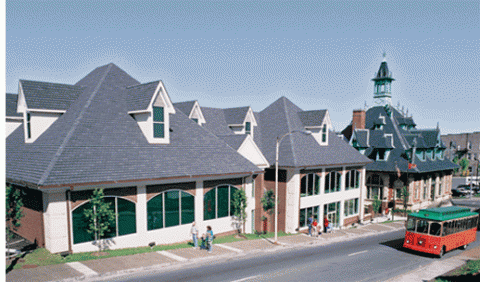 Located in the heart of historic downtown Clarksville, Tennessee, the Customs House Museum and Cultural Center is the State's second largest general museum. The original portion of the building was constructed in 1898 as a U.S. Post Office and Customs House for the flourishing tobacco trade. Incorporating a number of architectural styles, the original structure is one of the most photographed buildings in the region.
With over 35,000 square feet of the region's best hands-on activities and special events…people of all ages agree – the Customs House Museum is well worth the stop!
The Explorer's Gallery is packed with fun, learning and fantasy in Aunt Alice's Attic, McGregor's Market and kitchen, and of course – the Bubble Cave! Finally, get "all aboard" to see our fantastic model trains. Our volunteer engineers "ride the rails" every Sunday afternoon from 1:00pm to 4:00pm.
Regular museum hours are 10:00am to 5:00pm Tuesday through Saturday, and 1:00pm to 5:00pm on Sundays. Adult admission is $7.00, Senior Citizens and College ID $5.00, Ages 6 to 18 $3.00, and under six years and Museum members are free.
The Customs House Museum is located at 200 South Second Street. For more information, call 931.648.5780 or visit their website at www.customshousemuseum.org