APSU Sports Information
Evansville, IN – Austin Peay State University's baseball left fielder Alex Robles' solo home run provided the Governors its only run in a 6-1 nonconference loss to Evansville, Wednesday night at Braun Stadium.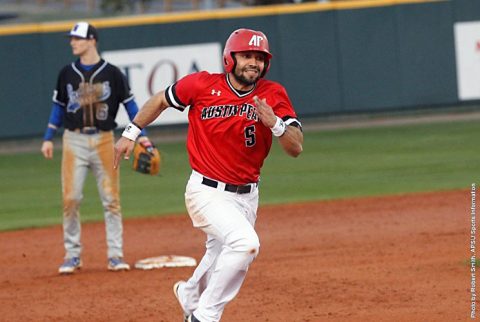 Austin Peay (6-6) had a chance to get on the board early in Wednesday's game, putting a runner in scoring position with one out in the first.
The Govs would work their way into a bases loaded situation with two out but could not get the base hit they needed.
Still, the Governors would get on the board first and it came courtesy a home run. Left fielder Alex Robles hit a long drive over the left center wall to give Austin Peay a 1-0 lead.
Evansville (4-8) went to its bullpen soon after Robles' home run and the move completely stymied the Austin Peay offense. Reliever Austin Allinger would strike out the first batter he faced to end the third, the first of five consecutive strikeouts to start his appearance.
Allinger's outing started a stretch of 14 consecutive Govs batters retired by Evansville pitchers. In all, a trio of Evansville relievers retired 19 of the final 21 batters they faced, only permitting solo walks in the eighth and ninth innings.
The Purple Aces offense tied the game in the third after left fielder Dalton Horstmeier led off the inning with a double. A one-out squeeze bunt brought Horstmeier home, tying the game.
But it was the fourth inning that proved the Governors undoing. Evansville sent nine batters to the plate and scored three runs without using a base hit. The Purple Aces took advantage of four walks, a hit batsman and a wild pitch following a strikeout to push across three runs.
Evansville tacked on two additional runs in the seventh, again using two walks a hit batsman to load the bases with two outs. Third baseman Craig Shepherd drove in two runs with a single up the middle, setting the final score.
Austin Peay reliever Tyler Thompson (0-1) was tagged for the loss after allowing three runs on a hit and two walks in 1.2 innings. Governors starter Josh Rye was left with no decision after allowing only one hit over two scoreless innings.
Robles, shortstop Max Remy and catcher David Martinez had the Govs only hits in the loss.
Allinger (1-0) picked up the win with 3.1 innings of scoreless releief that saw his strikeout six of the 10 batters he faced. Horstmeier and third baseman Conner Hasecuster each had two RBI.
Who Governed
Robles' third-inning home run put the Govs ahead, 1-0, and was one of just three hits by offense in a quiet night on the road. His third home run came in just his 12 game of 2017 after he posted a career-high four home runs during his 53 games last season.
Notably
Robles Continues Road Production
Robles continued to find ways to produce on the road, posting his team-leading eighth hit and fourth extra-base hit in a road contest. He is batting .533 on the road this season with two doubles and two home runs.
Back Over The Fence
After its homerless outing, Sunday, the Govs put one over the fence at Evansville. It was their 26th home run this season through 12 games.
Offense Stymied On Road Again
The Govs offense was held to a season-low three hits in Wednesday's loss. Four of the Govs five lowest hit totals have come in road contests this season.
Free Passes Add Up
Austin Peay's pitching staff battled to find the strike zone on the road, issuing 11 walks and hitting three batters. Evansville capitalized with five of their six runs coming from runners who reached base without posting a base hit.
Next Up for APSU Baseball
Austin Peay returns home to start Ohio Valley Conference play, Friday, with a three-game series against preseason favorite Jacksonville State.