APSU Sports Information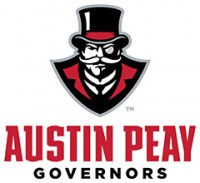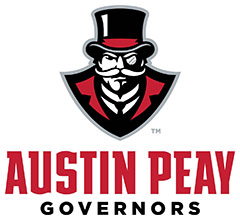 Clarksville, TN – Austin Peay State University athletics held a press conference Thursday morning to introduce its next head men's basketball coach for the first time since 1990.

Matt Figger, who served as Frank Martin's recruiting coordinator and assistant coach from his tenure at Kansas State through this year's Final Four run with South Carolina, was announced as the 12th head coach in program history, taking over for Dave Loos, who retired in March after 27 years at the helm.

Figger's introductory press conference was attended by a large gathering of fans, media members, donors and students eager and curious for a first look at Austin Peay's next head coach.

"I've stated many times that our goal at Austin Peay is to create champions," said athletics director Ryan Ivey during Figger's introduction. "Champions on the competition surface, champions in the classroom and champions in life.

"Our vision here is to be the standard by which everyone else measures themselves and to be the premiere athletics department in the Ohio Valley Conference. A successful, championship-caliber men's basketball program is a cornerstone of that vision."

Speaking from the heart and expounding on how his vision for the program will lead to Ivey's desire for championships, Figger spoke for roughly 10 minutes about the future of Austin Peay men's basketball and his desire to be the Governors head coach.

"This is my Christmas," Figger said. "I am so thrilled to be here. I'm so excited and I can't wait to get to work here.

"We've got things we need to do. I need to meet with the team—everything is about trust and loyalty. Those kids have to trust and believe in me, and I have to trust and believe in them. When you have those two things, you get love and when you've got love for each other, the sky is the limit. That's what I'm looking to build here."

The Jenkins, Kentucky native has been an integral part of Martin's success since joining the fiery head coach at Kansas State in 2007. This season, Figger served the last of four seasons as associate head coach for Martin, helping to lead the Gamecocks from the bubble to the No. 7 seed and ultimately the Final Four. Along the way, South Carolina knocked off Marquette, Duke, Baylor and Florida, ultimately succumbing to Gonzaga in the final seconds of the national semifinal, Saturday night.
What they're saying about Coach Figger
South Carolina Head Coach Frank Martin
"Austin Peay just hired a tireless worker who is an unbelievable coach and a more dynamic person. He is a winner, and he will make every young man and the program into ultimate winners."
Illinois Head Coach Brad Underwood
"Matt is one of the top up-and-coming coaches in the game. He has paid his dues and was a big part of the rebuilding efforts at Kansas State and South Carolina. He is a great basketball mind and terrific recruiter and will help bring Austin Peay to the top of the OVC."
Milwaukee Bucks Forward Michael Beasley
"Coach Fig is a first-class man and terrific teacher. He helped me develop my mid-range game and made sure we knew the importance of being in excellent condition. I couldn't be happier for him and know he'll do great things for Austin Peay."
Texas Tech Head Coach Chris Beard
"Simply stated, Matt is a winner. He's won at every level and has earned this opportunity. He will bring energy, excitement and work ethic and recruiting knowledge that will be very beneficial to the APSU program. Players gravitate to Matt because he is genuine and invested in their lives on and off the court."
Doug Gottlieb, Fox Sports
"Matt Figger comes from a tremendous basketball coaching tree. In addition, he has the type of positive energy that is contagious to fans and players alike. I cannot wait to see his Govs get after it."
The Figger File
Family: Wife, Katrina, and son, Vince
Education: Eastern Kentucky, 1995 (B.S.)
Experience
1993-94: Wabash Valley (Ill.) Junior College, assistant coach
1994-99: Vincennes, assistant coach
2000-02: Odessa (Texas) Junior College, assistant coach
2003-07: South Alabama, assistant coach
April-June 2007: Arkansas, director of operations
2007-12: Kansas State, assistant coach/recruiting coordinator
20013-17: South Carolina, associate head coach/recruiting coordinator
Accomplishments
12 National appearances
4 NJCAA
6 NCAA – 2006, 2008, 2010, 2011, 2012, 2017
2 NIT – 2009, 2016
Sweet 16 – 2010, 2017
Elite Eight – 2010, 2017
Final Four – 2017
2006 Sun Belt Tournament Champion at South Alabama
2007 Sun Belt Regular-Season Champion at South Alabama
No. 23 recruiting class in 2013 (ESPN.com)
South Carolina team GPA of 3.0 or better in seven of last eight semesters
Five All-Americans
20 All-Conference performers
Two Conference Players of the Year
Coached 2008 Consensus National Player of the Year Michael Beasley (Kansas State)
Helped four players (Beasley, Shawn Marion, Rodney McGruder and Henry Walker) along the path to NBA careers.
Sections
Sports
Topics
APSU, APSU Athletics, APSU Athletics Director, APSU Basketball, APSU Men's Basketball, APSU Sports, Arkansas, Austin Peay State University, Baylor, Clarksville TN, Dave Loos, Duke, Eastern Kentucky, Florida, Fox Sports, Frank Martin, Gamecocks, Gonzaga, Governors, Govs, Illinois, Jenkins KY, Kansas State, Marquette, Matt Figger, NCAA, NIT, Ohio Valley Conference, OVC, Ryan Ivey, South Alabama, South Carolina, Texas Tech