APSU Sports Information

Nashville, TN – The Austin Peay State University men's tennis team saw its 2017 season come to a close after a 4-1 loss in the opening round of the Ohio Valley Conference Tournament to Belmont Friday afternoon.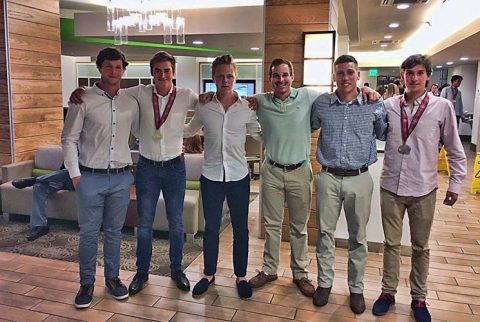 The Govs won the doubles point after All-OVC First Team selection
Almantas Ozelis
and partner
Aleh Drobysh
won their No. 1 match 6-4, and All-OVC Second Team member
Manuel Montenegro
and partner
James Mitchell
took their No. 2 match 6-1.
The Govs completed the sweep when Alex Kartsonis and Chad Woodham won their No. 3 match 6-2.
Belmont answered with singles wins at spots one through four to clinch the match and advance.
Match Results
Belmont 4, Austin Peay 1
Singles
1. DUJACQUIER, Cedric (BEL) def. OZELIS, Almantas (APSU) 6-2, 6-3
2. INNO, Hendrik (BEL) def. MONTENEGRO, Manuel (APSU) 2-6, 7-5, 7-6 (7-5) \
3. STERKENS, Vincent (BEL) def. KARTSONIS, Alex (APSU) 6-1, 6-3
4. KHAN, Zak (BEL) def. WOODHAM, Chad (APSU) 6-2, 6-1
5. GOLDMAN, Stephen (BEL) vs. DROBYSH, Aleh (APSU) 6-2, unfinished
6. RUSSO, Bruno (BEL) vs. MITCHELL, James (APSU) 6-2, 3-6, unfinished
Doubles
1. OZELIS, Almantas/DROBYSH, Aleh (APSU) def. DUJACQUIER, Cedric/INNO, Hendrik (BEL) 6-4
2. MITCHELL, James/MONTENEGRO, Manuel (APSU) def. GOLDMAN, Stephen/KHAN, Zak (BEL) 6-1
3. RUSSO, Bruno/STERKENS, Vincent (BEL) def. KARTSONIS, Alex/WOODHAM, Chad (APSU) 6-2
Match Notes:
Order of Finish Doubles-3,1,2 Singles-3,4,2,1,5,6