Written by Curtis Johnson
Tennessee State Representative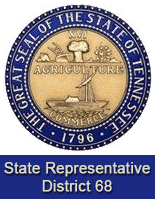 Nashville, TN – The House Finance, Ways and Means Subcommittee will consider legislation next week requiring the Tennessee Department of Health (DOH) to identify individuals who are in the top 20 percent of prescribers of opioids in the state. After being identified and notified of the high volume opioid prescriber status, this legislation requires the prescribers to comply with certain requirements.

The legislation aims to address Tennessee's status as second in the nation in abuse of opiates.

Under current law, the DOH monitors the 100 highest volume opioid prescribers in Tennessee. HB 1207 calls for DOH, in addition, to look at prescribers who are at high-risk based on clinical criteria, such as overdoses or dangerous drug combinations.

Once a high-risk prescriber is identified under protocols established by the DOH, these individuals would be subject to additional criteria, including participation in continuing substance abuse education.

The legislation also calls for the affected prescriber's waiting rooms and clinical areas to contain materials regarding the risks and complications of drug addiction.

After three weeks of therapy and every 30 days thereafter, the prescriber would need to obtain a written consent form for the patient's record, containing the risks of abuse, signed by the patient.

House Finance Subcommittee to Hear Legislation Prioritizing Repair of Structurally Deficient Bridges

Legislation prioritizing the repair of structurally-deficient bridges in Tennessee was unanimously approved by the Senate Finance, Ways and Means Committee on Wednesday. House Bill 553 authorizes the Tennessee Department of Transportation (TDOT) to pay up to 100 percent of the cost to repair or replace bridges on local roadways through a new "High Priority" category in the state-aid highway program.

The legislation would give TDOT the ability to carry out these projects without requiring a local match.

Testimony from Tennessee Department of Transportation (TDOT) Chief Engineer Paul Degges that 200 of the state's 526 structurally deficient bridges on local roads have been weight-posted, a status which prevents certain school buses, pumper-style fire trucks and other heavy vehicles from crossing due to safety risks. Degges said that unless there is a comprehensive fix, within 10 to 12 years all 526 bridges that are in need of repair or replacement will likely be added to that list.

"In three locations in the state, buildings have burned because a pumper truck could not get to them in a timely fashion," Degges said.

TDOT estimates 47 percent of bridges on local roads are over 50 years old. With an average lifespan of 50 to 75 years, TDOT officials estimate 30 bridges in Tennessee will become structurally deficient each year because of age and wear and tear, not to mention those classified as functionally obsolete due to high traffic volume. In addition, 162 bridges on the state highway network are in need of repair or replacement due to the same reasons.

The legislation also gives TDOT the authority to maintain local roadways within the borders of state parks. There has been a longstanding issue related to who is responsible for maintaining these roads since they are local roads within state-operated parks. There are approximately 65 miles of roads within the state parks that are currently the responsibility of local governments.

Palliative Care Bill Moving in the House

Legislation creating a State Task Force on Palliative Care and Quality of Life in Tennessee was heard in the House Finance, Ways & Means Subcommittee this week.. The purpose of the bill is to promote patient-centered and family-focused palliative care in the state.

Palliative care is an approach intended to improve the quality of life of patients and their families who are facing serious or life-threatening illnesses. It aims to prevent and relieve their suffering by means of early identification, impeccable assessment, and the treatment of their pain, physical, psychosocial, spiritual, and various other ailments.

HB 0629 creates a nine-member task force charged with consulting and advising the Department of Health on matters relative to the establishment, maintenance, operation, and outcome of palliative care initiatives.

Over the last decade, a multitude of studies have shown the benefits of palliative care, including improved quality of life, reduced patient and caregiver burden, and an overall reduction in total health care costs. Currently, 16 states have laws establishing these Advisory Councils, and an additional seven states introduced comparable bills during their most recent legislative sessions.

New Element Found – Named for Tennessee
Scientists responsible for the discovery of element 177 on the Periodic Table, and its naming as tennessine, were honored by the Tennessee Senate this week. The scientists included Dr. Robert Grzywacz, Dr. Krzysztof P. Rykaczewski, Dr. James Roberto and Dr. Joseph Hamilton.
The discovery of tennessine, along with elements 113, 114, 115, 116 and 118, provides evidence for the long sought "island of stability," a concept that predicted nearly 50 years ago increased stabilities and much slower rates of decay for superheavy elements with higher numbers of neutrons and protons than those previously known.
The presence of tennessine on the Periodic Table is also an affirmation of our state's standing in the international scientific community" as well as the knowledge and expertise of Tennessee's scientists and technicians. The recognition comes after passage of Senate Joint Resolution 2 by both Houses of the General Assembly and the signature of Governor Haslam.
It pays tribute to the discovery and the roles of the Department of Energy's Oak Ridge National Laboratory, Vanderbilt University and the University of Tennessee in it.
Contact Information

Rep. Curtis Johnson
15 Legislative Plaza
Nashville, TN 37243
615.741.4341
For more information about the Tennessee General Assembly, check our website at: www.capitol.tn.gov
Sections
Politics
Topics
bridge repair, Bridges, Curtis Johnson, Element, HB 1207, HB 533, HB 629, House Bill 1207, House Bill 533, House Bill 629, Nashville TN, Oak Ridge National Laboratory, Opioids, Palliative Care, Periodic Table of the Elements, TDH, TDOT, Tennessee, Tennessee Department of Health, Tennessee Department of Transportation, Tennessee Senate, Tennessee State Representative, Tennessine, U.S. Department of Energy, University of Tennessee, Vanderbilt University