Clarksville, TN – The Austin Peay State University Department of Music was well represented at the Tennessee Music Education Association (TMEA)'s annual conference, held in April in Nashville at the Opryland Hotel.
The APSU Clarinet Choir, under the direction of Dr. Spencer Prewitt, was among a number of student groups selected to perform at the conference.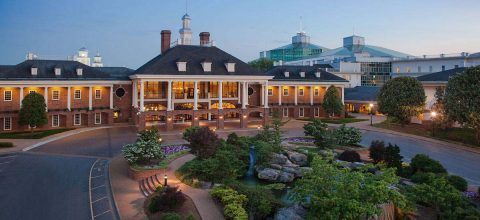 In addition, APSU students Katie Spicher (principal chair, second violin), Nancy Alvarado (violin), Beau Keith (viola) and Trevor Compton (cello) took part in the All-Collegiate Orchestra, an ensemble comprised of university students from across the state of Tennessee.
Also at the event, APSU alumna Vanessa Cobb was selected as the 2017 Outstanding Young Music Educator. The director of instrumental music at Northwest High School in Clarksville, Cobb is a 2013 graduate of APSU with a Master of Music in instrumental conducting and a Master of Music in education. In addition to her teaching duties, Cobb is also the conductor of the concert and marching band at Northwest, as well as its pep band.
Sophomore music education major Cheyenne Plank was also chosen to represent APSU during TMEA's annual summer trip to Washington D.C. as a part of the annual Hill Day Advocacy Summit. This is the third consecutive year an APSU student has been chosen to attend the summit, joining Austin Ward (2016) and Davey Edmaiston (2015), who each made the trip to Washington D.C. to advocate for music education in schools.
TMEA was formed in 1945 as a non-profit organization representing all phases of music education at all school levels and aims to promote the advancement of high quality music education for all.
For more information about TMEA, visit http://www.tnmea.org/about.html. For more information about the APSU Department of Music, visit www.apsu.edu/music