Clarksville, TN – Clarksville Police Department hosted one of its largest Student Traffic Awareness Training (S.T.A.T) classes for Teens on Saturday, August 26st, 2017. There were 70 teens enrolled in the class, between the ages of 15 and 19. The purpose of the class is to help educate and try to reduce traffic crashes involving teen drivers.
Those attending the class were provided information through classroom training and practical exercises. There were classroom presentations given on speed awareness, underage alcohol prevention awareness, rules of the road, traffic laws, driving under the influence, distracted driving and several other topics.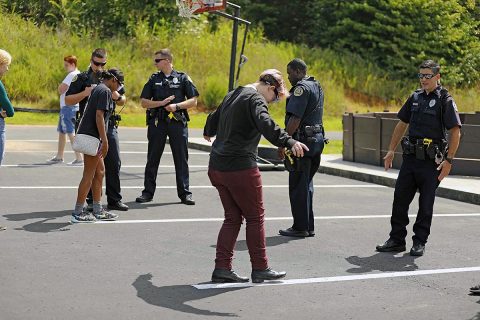 The teens had an opportunity to hear from guest speakers who had their lives changed forever because of drunk driving from both sides of the tragedy—the drunk driver and the victim of the traffic crash.
They told the students how their lives were influenced by the crash and the path to putting together the pieces of their lives in the aftermath of the crash. You could have heard a pin drop during the presentation.
After the classroom presentations were done, the students moved outside to experience some true life practical exercises. They had an opportunity to drive a golf cart through a serpentine course lined with "cone babies", while texting and driving. Needless to say, there were many "cone baby" fatalities, illustrating first hand, the perils of distracted driving, even at the low speed.
The students were broken down into groups and all had an opportunity to wear "fatal vision" goggles which allows the wearer to experience a realistic simulation of impairment, experience how alcohol impairs a person's balance, vision, reaction time, and judgment.
They utilized the goggles while performing field sobriety tests, shooting "hoops", playing corn hole, and some even had an opportunity to try and drive while wear the goggles. The practical exercises were an eye opening for the teenagers.
At the end of the day, the teenage participants experienced the entire gambit of emotions. They saw how their lives and others can be changed and influenced by their own choices or the choices of others.
The next S.T.A.T class for Teenagers will be October 21st, 2017. It is FREE. Information and applications can be found online at www.clarksvillepd.org
Photo Gallery