APSU Sports Information

Murray, KY – Another low round moved Austin Peay State University men's golf one spot up the leaderboard and into the top-five at the 2017 MSU Invitational, Tuesday, at Miller Memorial Golf Course.
In fact, the Governors final-round 283 was Tuesday's lowest team score, two shots clear of Murray State and Morehead State.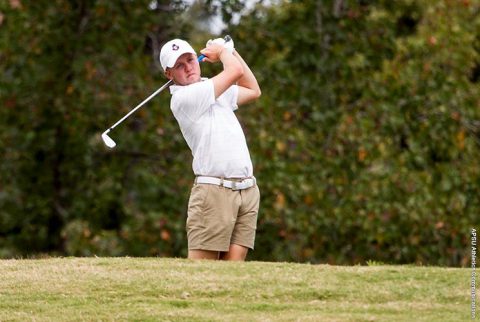 The Racers won their home tournament with an 850 (279-286-285), with UT Martin taking runner-up honors (287-281-288=856). Western Illinois (282-289-288) and Morehead State (284-290-285) tied for third with matching 859s, one shot ahead of the Governors three-round 860 (292-285-283).
Freshman Chase Korte followed up back-to-back 70s with a final-round 71, moving up two spots to finish sixth overall (70-70-71=211). The Metropolis, Illinois native was one of three players to shoot par or better in all three rounds, and his sixth-place finish—in addition to being the first by an Austin Peay freshman since Alex Vegh's eighth-place finish at the Coca-Cola Wofford Intercollegiate (April 3-4, 2017)—is the best by an APSU player in his debut since Anthony Bradley (seventh) at the Marshall Invitational in 2010.
Another Governor freshman finished just outside the top-10, with Garrett Whitfield carding a 214 (69-72-73), while senior Hunter Tidwell showcased his array of skills with a final-round 67—Tuesday's lowest by an individual—to elbow his way into a share of 25th with a 218 (77-74-67).
Sophomore Michael Busse continued a solid start to his second campaign, shooting a final-round 72 to finish with a 222 (76-74-72), while a rough first round remained all that separated sophomore Austin Lancaster from the top of the leaderboard—he shot a 73, Tuesday, for a 224 (82-69-73) overall.
The Governors will have a short turnaround for their next tournament, competing in this weekend's EKU Intercollegiate at the University Club at Arlington. Action is slated to begin Saturday, September 12th in Richmond, KY.