APSU Sports Information
Clarksville, TN – In the 25th anniversary season of its first Ohio Valley Conference regular season title, Austin Peay State University's volleyball team clinched a share of the 2017 crown with a three-set sweep (25-13, 25-10, 25-23) of Southeast Missouri, Saturday, at the Winfield Dunn Center.
Austin Peay (26-14, 13-1 OVC) also clinched the No. 1 seed in the upcoming OVC Volleyball Championship which will be held at Austin Peay, November 16th-18th, in the Dunn Center. Full tournament details will be made available once the entire field is set.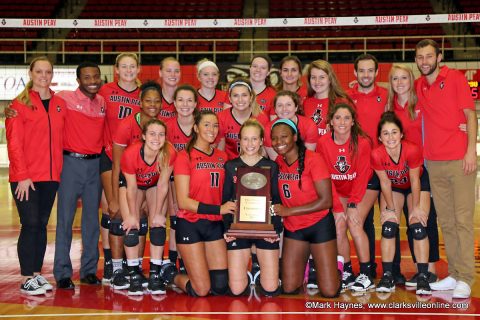 The Governors dominated the first two sets, posting 28 kills and a .240 attack percentage. Southeast Missouri's offense could not get on track and was held to 12 kills and a .029 attack percentage as the Govs jumped out a 2-0 lead.
Southeast Missouri (10-17, 5-9 OVC) returned from the break and opened with a 6-2 run. The Redhawks extended that lead to 19-13 to force an APSU timeout.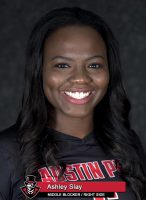 The Govs rallied after the stoppage, scoring six of the next seven points to close within one, 20-19. Southeast Missouri scored three straight to get within sight of set point, 23-19, but could not close the frame. The Govs scored five kills and an ace as part of a match-clinching 6-0 run.
Senior Ashley Slay paced the Govs with a match-best 15 kills and a .414 attack percentage. Redshirt junior Christina White chipped in 10 kills.
Krissa Gearring led Southeast Missouri with 12 kills, the Redhawks finishing with 28 kills for the match.
Set by Set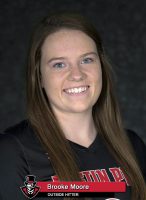 SET 1 | GOVS 25-13
Austin Peay set the tone early – or more accurately freshman Brooke Moore set the tone with three straight service aces to jump start a 6-0 Govs run that handed it a 9-1 lead. APSU saw its lead reach 10 points at 14-4 and SEMO burned its final timeout to no effect as the Govs cruised to a 25-13 set win.
Austin Peay posted 13 kills in the opening frame, White leading the effort with five kills.
SET 2 | GOVS 25-10
The Govs and Redhawks fought through four ties in the opening eight points of the first set until Austin Peay broke the set open with a 13-1 run for a 17-5 lead. That decisive burst included an impressive eight-point run that included two kills from both Slay and Jenna Panning.
Austin Peay would ease its way to a 25-10 win, sealed with another Moore service ace. Moore scored six points in the frame, adding five kills in the Govs 15-kill performance.
SET 3 | GOVS 25-23
Southeast Missouri made an early effort to turn the tables in the third, scoring five straight points to build a 6-2 lead. The Redhawks slowly eased that lead to six points, 19-13, to force an Austin Peay timeout. White posted a kill out of the stoppage to end the run and followed with a service ace to get some momentum back in the Govs direction.
SEMO got within two points of the win, 23-19, but the Govs recorded five kills and an ace in a victory-sealing 6-0 run. Slay posted eight kills in the frame, the Govs needing a 21-kill effort to end the match.
Govs Notably

MAGIC NUMBER = 1.
APSU's victory clinched it a share of the regular-season title but they will need another win to claim the crown outright. That opportunity arrives with Murray State in the Dunn Center, Wednesday.
TWENTY SIX IN 2017.
The 2017 Governors volleyball team tied the 2010 team for third-most victories in program history. They enter the regular season's final week needing two wins to match the program record of 28 wins set by Austin Peay's 1992 OVC regular-season champions.
They join the 1980 team (25-12), 1992 team (28-7, OVC Regular-Season Champions) and 2010 team (26-8, OVC Tournament Champions) in that rarefied territory. It is the 12th time in 42 seasons APSU has posted 20 or more wins.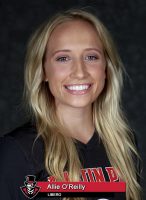 THIRTEEN IN OVC.
Austin Peay won its 13th OVC contest, the sixth time in program history it has notched 13 or more OVC wins. The Govs best OVC mark was set by the 1992 team when it went 15-1 in OVC play.
O'REILLY NEARING 1,000 DIGS.
Senior Allie O'Reilly's 13-dig outing saw her end the day with 984 career digs (657 in two seasons at APSU), just 16 digs shy of recording a milestone 1,000th dig.
WHITE'S ACE STREAK CONTINUES.
White extended her ace streak to seven matches with a pair of service aces against Southeast Missouri. She finished the day with 47 aces this season, moving her to 16th on the Govs single-season list.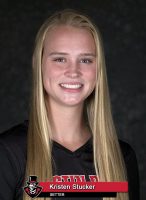 OTHER SINGLE-SEASON TOP 25s.
Other Governors among the Top 25 in single-season marks:
Next Up for APSU Volleyball
Austin Peay closes its current three-match homestand with a 7:00pm, Wednesday contest against Murray State in the Battle of the Border presented by Heritage Bank.
Photo Gallery