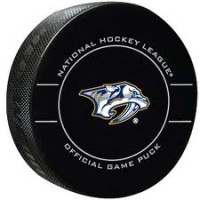 Clarksville, TN – The Nashville Predators won an overtime thriller to begin their four game road trip tonight, against the New York Islanders, 5-4. Ryan Johansen tied the game with just under one minute in regulation, then THE captain, Roman Josi scored the game winner to earn the Predators the two points.
In what can only be described as one of the most exciting comebacks in Nashville Predators history, Nashville gets the win in a battle of goaltenders as Pekka Rinne and New York's Jaroslav Halak put on a clinic.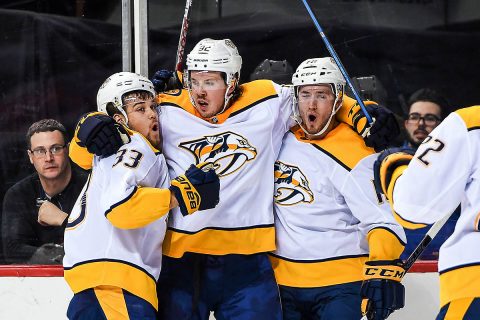 New York lit the lamp first with a power play goal with just under five minutes into the game as John Tavares took a pass from Josh Bailey for the score.
Kevin Fiala tied the game at 1-1, taking a Kyle Turris pass for the goal. Fiala then put the Predators ahead 2-1, taking a loose puck off of a rebound to score with just over six minutes remaining in the period.
New York wasted very little time tieing the game as just 38 seconds later, Ryan Pulock shot a bullet past Rinne to bring the game level at 2-2.
Casey Cizikas would give the Islanders the lead, cutting to the net and scoring past Rinne to make it 3-2.
New York's Nick Leddy would double the Islander's lead, 4-2, scoring at 3:39 of the second period. The Islander's offense was relentless.
Nashville's Calle Jarnkrok would pull the Predators to within a goal with just under four minutes remaining in the second period, scoring on a loose puck off of a Scott Hartnell shot. New York challenged the goal on goalie interference, but the challenge was denied and Nashville was awarded the score.
The Predators pulled their goalie with just over two minutes remaining in regulation when Johansen scored the goal that would tie the game with under one minute to play.
Both teams had their chance to win the game, but amazing goaltending by both teams extended the overtime, until Nashville's Roman Josi took a pass from Nick Bonino and planted the game winner into an open net for the win.
The Predators were playing their first game without Filip Forsberg who was suspended for three games over a hit against the New York Rangers on Saturday night.
Nashville travels to Toronto for a 6:30pm Wednesday match-up against the Maple Leafs.