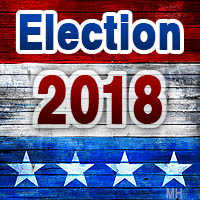 Clarksville, TN – A longtime local trustee official has announced her candidacy to be the next Montgomery County Trustee.
Corinthia P. Elder, 47, has qualified to run in the May Republican primary. If she wins, she'll run in the August general election to succeed current Trustee Brenda Radford. She currently serves as the county's chief deputy trustee.
"It's very important that the next County Trustee be someone with the education, experience and leadership skills to lead the office," Elder said. "I believe with my past work experience, I am qualified to hit the ground running and lead the office forward on Day One."
The trustee's office handles more than $115 million in property tax each year, Elder said. She described the job as "a sacred trust" with the community collecting property tax income, investing it and paying it out to fund the various functions of county government.
"There's too much at stake for this office to be left to somebody who would need on-the-job training," Elder said. "It takes a strong, steady hand to keep this office running smoothly and efficiently. I'm the one for the job."
Elder was born in Roseau, Dominica in the Caribbean islands. She later moved to Dutch St. Maarten, where she graduated from St. Maarten Academy in 1987.
Shortly after finishing high school, Elder attended Pensacola Christian College in Florida, where she graduated with a Bachelor of Science degree in Business Administration in 1991. While in college, she was active in two different fraternal organizations and was an officer her senior year.
Upon graduation, Elder returned to St. Maarten where she worked for a year at Winward Islands Bank. She moved to Clarksville in 1992, and became a naturalized citizen in 1999 while her husband was deployed to Bosnia.
She later became engaged to Lee Elder, and they were married in June 1992. They have three children: Sharina, 21, a junior at Austin Peay State University; Silas, 14, a freshman at Clarksville Academy; and Savannah, 12, a sixth-grader who also attends Clarksville Academy.
Elder has worked in the Trustee's office for more than 23 years. She's worked in and managed nearly every section within the department. Since 2008, she's been the senior deputy trustee working as the No. 2 official in the office supervising all personnel and assisting the present trustee in her day-to-day actions.
The Elder family are active members of Hilldale Baptist Church. She has served as a Sunday school teacher and a longtime choir member.
In addition, the Elder family have been active members in the Montgomery County Republican Party since 1994. Lee Elder was local party chairman from 2000-2005, and is retired from the Tennessee National Guard after more than 28 years service.