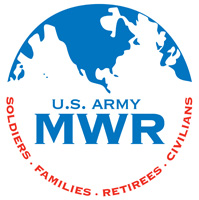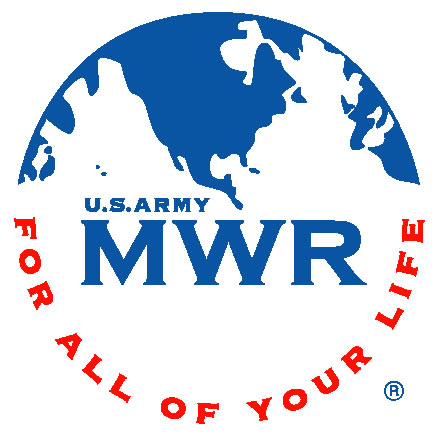 Fort Campbell, KY – Fort Campbell MWR will hold an open bid auction for abandoned vehicles and MWR equipment on March 17th, 2018.
The MWR equipment that will be auctioned has been deemed in excess, to be unusable, or no longer cost effective to maintain. This equipment will be sold in "as is" condition and there is no warranty or guarantee.
Everyone must have cash or a credit card and be at least 18 years of age to receive a paddle for bidding and to place a bid.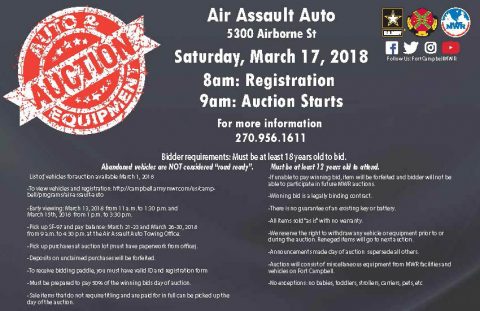 For vehicles – must be prepared to pay at least 50% of the winning bid on the day of the auction. Items requiring titling can be picked up between 9:00am and 4:30pm on March 21st-23rd and March 26th-30th – after balance is paid in full.
For items that don't require titling – must be prepared to pay in full on the day of the auction and items can be picked up on the day of the auction.
No one under the age of 12 will be allowed to attend. Please do not bring babies, toddlers, strollers, carriers, and pets.
We reserve the right to withdraw any equipment prior to or during the auction.
Any reneged items will be placed in the next auction.
When
March 17th, 2018
8:00am – Registration
9:00am – Auction Begins
3:00pm – Deadline to pick up your purchases. (purchases are forfeited after 3:00pm)
List for auction vehicles will be ready on March 1st
Early viewing
March 13th, 11:00am to 1:30pm
March 15th, 1:00pm to 3:30pm
For additional information, please call 270.956.1101.