APSU Sports Information

Clarksville, TN – Austin Peay State University men's basketball put five players in double figures but never quite found the final rally in an 86-80 defeat at the hands of Tennessee Tech, Thursday.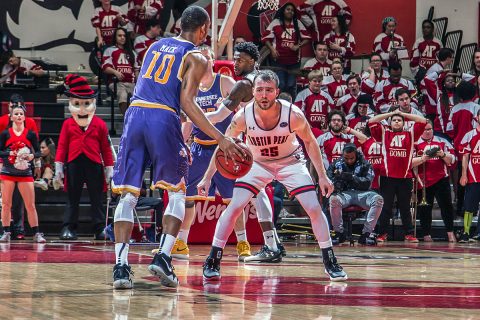 The loss snapped a six-game home winning streak for the Govs, dropping Austin Peay to 15-12 (10-5 OVC) on the season, tied with a surging Tennessee State squad that won its seventh in a row tonight against Morehead State. Tennessee Tech snaps a three-game losing streak to improve to 17-11 (9-6).
Momentum swung wildly back and forth during the first half. Austin Peay opened with a 6-0 run; Tennessee Tech countered with a 9-0 stretch. The Govs retook the lead with a 10-2 run; the Golden Eagles responded with a 15-3 stretch of basketball. The Govs got back within a bucket after a 7-2 run.
The late-frame momentum turned once again, as back-to-back threes from Curtis Phillips and Kajon Mack snuffed out Austin Peay's push for the equalizer. The visitors closed the half on an 8-2 run to take a 36-28 lead into halftime, in a half that saw the Govs hit just 37.9 percent (11-of-29) from the floor.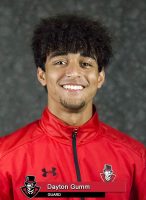 On the offensive end, the Govs started the second half on a roll, hitting five of their first seven shots from the floor. However, quick foul trouble quickly proved troublesome for an already short bench, and once more the Golden Eagles caught fire, to the tune of a 13-3 run that put the visitors up by double-digits at the midway point of the half.
The Govs attempted to mount a late rally with four minutes left. Down 14, Austin Peay outscored the visitors 14-6 over the final 4:09, with seven of freshman Dayton Gumm's 16 points coming during the run. The Govs would get within six points but simply ran out of time against Tennessee Tech.
The Difference
For one of few times this season, Austin Peay was at a sizable disadvantage on the glass, ending up minus-four (35-31) in rebounding margin. It's the largest negative margin for the Govs in OVC play, tied with the January 20th game at Belmont, and the fourth-largest deficit overall. The Govs are now 0-9 when losing the rebounding battle this season.
Notably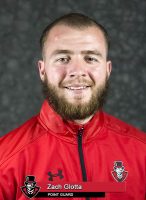 In the previous matchup, January 11th, Tennessee Tech protected the ball well, committing just 11 turnovers all game. In this matchup, the Golden Eagles committed four turnovers in the first 3:58 of the contest and 11 in the first half alone, finishing with 20 for the contest.
The Golden Ealges swept the season series against the Govs for the first time since 2011.
Austin Peay hit 46.0 percent from the floor (29-of-63) in the contest, just the Govs second loss this season when hitting at least 45.0 percent from the field (at Evansville, December 16th).
Junior Zach Glotta scored 11 points, reach double figures for the third time in four games; he's averaging 13.8 ppg on 48.6 percent (18-of-37) shooting during that span.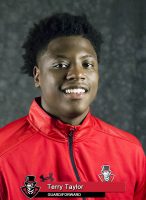 Tennessee Tech became the fourth consecutive opponent to hit better than 50.0 percent from the floor against the Govs; that's the longest such streak since an eight-game streak from November 30th-December 28th, 2016.
With three offensive rebounds, freshman Terry Taylor now has 108 on the season, tying him for 20th among NCAA Division I freshmen since 2009 (Derrick Favors, Georgia Tech; Jonathan Holton, Rhode Island).
Senior Averyl Ugba scored a team-high 19 points, running his double-figure scoring streak to seven games (19.3 ppg).
Tennessee Tech hit 52.6 percent (10-of-19) from beyond the arc, the best mark by an Austin Peay opponent this season.
In a career-long 22 minute outing, freshman Richard Henderson scored nine points and added two blocked shots.
The Govs scored 41 points in the paint, the first time this season Austin Peay has lost a contest in which it scored 40 or more in the paint.
Gumm procured a career-high tying four steals in addition to his 16 points; he's reached double figures in seven of his last eight outings, averaging 12.6 ppg over that time.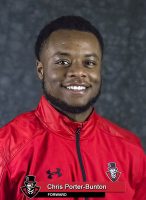 Austin Peay's plus-six turnover differential is its highest in a loss this season. It's just the second time this season Austin Peay has posted a plus-four or better turnover differential in a loss (Nov. 19 in overtime against UNC Asheville).
Junior Chris Porter-Bunton was a perfect 5-of-5 from the floor en route to 13 points.
For the first time all season, the Govs dropped a game in which they scored 80 or more points, falling to 7-1 in such contests.
Coaching Quotables with Head Coach Matt Figger
Overall Thoughts

"I felt like I had to play everybody to keep our effort and energy up, and we lost that when I went to the bench. That's poor coaching. Some guys that have helped us didn't help us tonight and Tech is a very physical team. They've got pride, they've had a little losing skid and they figured they needed to stop the bleeding."
On Saturday
"We've got to win. We've done the right things and these kids care about one another and fight for one another. We've got to figure out a way to get stops against Jacksonville State."
Next Up for APSU Men's Basketball

It's back to the Dunn for another conference matchup with high stakes as defending OVC Tournament champion Jacksonville State makes its first visit to Clarksville since Ray Harper took over as head coach. The Govs are 10-1 all-time against the Gamecocks in the Dunn Center.
Saturday, February 17th also will serve as Military Appreciation Night, where we honor our friends at Fort Campbell and their service, commitment and passion for our community, our country and our world. Tip off is at 7:00pm.